< Back to Kitchen Keeper Recipes
Apple Crisp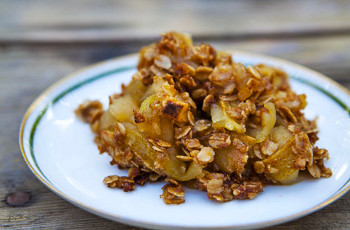 A nice holiday gathering or just a nice family meal would not be complete without this wonderful, warm, and tasty apple crisp! This recipe has been passed down through generations and has stayed a classic family favorite! This apple crisp is really easy to make and will leave everyone wanting more! Enjoy!
Ingredients:
1 can fruit (apple or peach)
1 pkg. instant jello pudding
3/4 cup oatmeal
1/2 stick margarine
1/4 cup flour
dash of cinnamon
2 Tbs. brown sugar
1 cup pecans (chopped)
Directions:
Put frit in long pyrex baking dish
Take 2 Tbs. dry pudding mix.
Put remainder of pudding mix into mixing bowl.
Add oatmeal, flour, sugar and cinnamon to mixing bowl, along with softened or melted margarine, and pecans (chopped).
Mix together with hands and sprinkle on fruit in baking dish. Mix should be dry and ctumbly.
Bake 30 min. at 350 degrees.
Take out of the oven and it can be served with nice cold icecream to top it off! Enjoy!
Copyright © 2008-2015 Debbie Reynolds Harper
Read more about the writer: Debbie Reynolds Harper
---
Post Your Comment...
---