Five Points to Politeness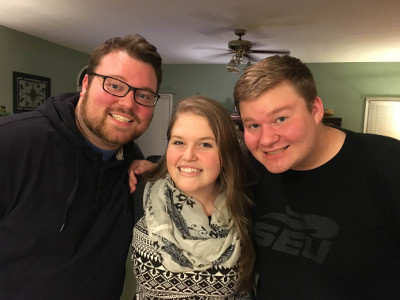 As families gather for the holiday seasons and throughout the year, there is a lot of togetherness that brings great delight, but can also be the breeding ground for little offenses to turn into big issues and potentially little specks to turn into big logs in our eyes, as the scripture tells us.
As the three siblings in this photo, who attend different schools in different cities, come home for the holidays, they have one common goal in mind and that is to make their time together as wonderful as possible!!!
So, I offer five points here to keep the season "Merry and Bright!!" and to help keep the atmosphere of your family gathering as meaningful and as much of a blessing as possible!!
Love Deeply from the Heart— Truly want the best for each other!!! Scripture tells us that our joy will be full when we love one another deeply from the heart!! Let no hidden hurts surface that are not properly dealt with according to the Matthew 18 principle.
Keep Humor Positive and Uplifting— Humor can be one of the greatest gifts to a family and one of the most refreshing things about family gatherings, but it can also be used in a way that the enemy of our souls can accomplish great destruction, when there are hurtful jeers, or unkind comments, or mocking or taunting, or labeling, or enjoying humor at the expense of others. We should always check to see if we are laughing "with" people, or laughing "at" others, and never be guilty of laughing at, but rather laughing with!
Cultivate Compliments – Always look for ways to verbally speak a blessing of appreciation as you notice things that are worthy of praise. You may compliments someone dish that they made, or their new hair cut, or there handsome scarf, or the choice of clothing for the occasion, or their beautiful gift wrapping for the season. Whatever you can find, turn it into a genuine compliment. Flattery is used only to get your way, but a genuine compliment is love packaged in words given as a gift to the heart!
Say Please and Thank You—As politely as you would speak to co-workers or other people you are around at school or at work, is as kind as you should be to your closest family members. So, basic manner of saying please and thank you are necessary and set the tone for a great time together!
Always Highlight the Good—There are enough negatives in the world—maybe we have put on a few pounds, have a facial blemish, or didn't have time to spruce up, or forgot a particular item on our list, but when we are together, we should acknowledge the but be gentle with the true realities but grace our conversations and attitudes with a special focus on the good, and the good report and the ultimate way in which all things can work together for good, according to Romans 8:28. When we do this, we are being the agent of good news and grace in their lives and when we do, we ourselves are blessed because of it!
Copyright © 2008-2015 Debbie Reynolds Harper
Read more about the writer: Debbie Reynolds Harper
---
Post Your Comment...
---