Karen: Laughter & Tomatoes on French Fries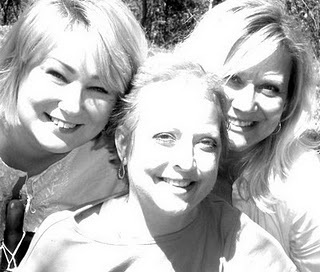 Karen affected my life before I even ever met her formally.

Five years ago, I was at her sister's house, (my friend Carlene), shortly after Carlene had her second daughter. Karen was visiting and had made lunch for us. We were just chatting, and I found myself blurting out to her that a good friend seemed to be getting very "legalistic" with me about some things I had been dealing with. At the time, I just needed acceptance and understanding; not a lecture or a lesson in reality. I was just processing. She looked at me and said, "Don't worry, honey. When people are legalistic, it just means they are immature in their faith." That was it. That was the extent of our theological conversation. It made me look at the person who had made the hurtful comment to me in a different light. I felt better just knowing that I was on the right path, and yes...I indeed was "normal." Miracle!
I saw Karen again, a year later, when she and her husband moved to our area from Georgia. They were pastors at a smaller church, when Karen fell and broke her ankle. Karen had been healed of ovarian cancer 11 years before. As a former Registered Nurse I can assure you that, diagnostically, fractures in a former cancer patient are ominous red flags and can be cardinal signs of systemic metastases (spread of cancer to other organs and tissues). And, it was just that. The cancer was back. This time it was in her lymph nodes and lungs. This was to be Round Two, ding ding! in Karen's battle with "The Big (Scary) C." She moved home so she could be helped by her parents, (our pastor and his wife), sister, brother, and many, many eagerly-awaiting friends.

Our church family unconditionally embraced Karen with open arms, volunteering to help with anything and everything: making meals, and transporting her to the grueling chemotherapy treatments while her husband worked. Several times, I remember dropping her off for her "Day of Chemo," with comedy DVDs, (that she shared with the other patients), and little bags filled with cavity-inducing gumballs, but . . . only after a chemo-induced, craving-dependent meal of French Fries, barbeque sauce and fresh tomatoes. Laughter and French Fries: a match made in Heaven.
The dynamic of a true Christian friendship is one where no awkwardness exists. None. When you meet a new brother or sister, there is an unspoken bond. This is why many people in our church have found it so seamless to "fit in" with others. There is instantaneous Love from the beginning. Love not based on circumstances. Love not based on feeling, experience, obligation, or human knowledge. When you learn to love like Christ, you love at the moment He commands you to do so. You love the moment the Father brings someone new into your life. It is something I have seen time and time again. It is one the most awesome things I have ever experienced in my life: beauty beyond measure and absolutely defiant of adequate description.
Over the next four years, Karen suffered. Oh, Sweet Jesus, she suffered. Arduous, painful, despairing chemo after chemo. She was positively ill for weeks at a time. She had excruciating pain, she struggled to just breathe. The cancer appeared and disappeared many, many times. She was healed again and again, on an exhausting emotional and physical rollercoaster ride. The disease would grow and then recede. At one point, she had over 40 individual brain tumors. Surely that was the end . . . right? Wrong. Another chemotherapeutic treatment or two, and they were gone. Completely.

Fast forward to today. My good friend, Jeana, and I have been going to visit Karen on a regular basis. We laugh with her. We take her for walks in her wheelchair as my ten-year-old daughter, Sophie, walks Karen's dog; and we take goofy, lame pictures. We love on her. We pray for her. Karen has a difficult time eating; the cancer now fully lays claim to her throat and lungs. Jeana and I pray and cry on our way home each time, wondering what it is The Father will have us do next. So, here we all are together: At The Threshold. At the junction between life and death. Here. And There. And, we may go no further. Not right now, anyway.
And here as well, we stand vigil, like sentries, at activities that most people don't even consider or intellectualize: walking, eating, bathing. Breathing. The Experts have told her she is "dying any minute now," and have advised her many times to, "get her affairs in order." Each time, in return, she would faithfully say, "I am not dying of cancer! I am living with it." It is a beautiful attitude and reflective of her strength in Jesus. Her faith in the restorative I-am-so-not-kidding power of Jesus Christ.

Today, I saw my friend gasp and struggle to breathe. I have seen her almost choke to death on juice. A few years ago, I told her that I felt God had a word for her: breathe. She had to concentrate on her breath, focus on her breathing. How many of us have to do this? Thank God that He foreknew the need for breathing to be something automatic and reflexive. For Karen, I felt it was a calling to rely on God for every breath. Give Him every single, solitary breath.

Karen is not afraid. She knows what her next address will be. We have already told her to "save us some seats up front." She has very publicly and sacrificially made it known that she is "ready to go Home." It's a wild and untamed, beautiful thing. For me, her friend, her sister-in-Christ, it is beauty mixed with paralyzing fear, hope, love, and a jillion other things. While I certainly will miss the physical presence of my dear sweet friend if she is taken Home, I also know that she is going to a place where,

"He will wipe every tear from their eyes. There will be no more death or mourning or crying or pain, for the old order of things has passed away" (Revelation 21:4, NIV).

Karen will not have to remember to breathe. She has long told us, too, that, while she is indeed sad for others, she wins either way. It's a "win-win." If God decides to swoop in at the last minute, and blow everyone's socks a mile high, she wins. If He calls her home long before any of us are truly ready for it, she still wins. The Enemy has lost: he will always lose.
So appropriate that a woman who has surrendered so much of her life to the Father, and stood witness to it all, and to US ALL, would be mirroring the purest of Love in a season all about conquering the grave. The miracle of Easter is this: Jesus defeated Death. Yes, it is that simple. There is nothing God cannot do. God has been victorious over the grave, and the grave is overwhelmed.
Copyright © 2008-2015 Jodi Crago
Read more about the writer: Jodi Crago
---
Reader Comments...
2011-02-02 18:48:17
"Jodi,

A beautiful testimony of a Wonderful Woman of God. Thanks for sharing. I still miss Karen. PS: Keep allowing His words to flow."


- Linda
---
Post Your Comment...
---