Delightful Divinity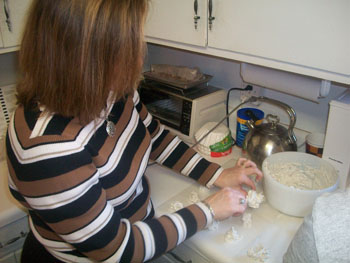 Divinity is one of my all-time favorite candies! I remember my aunt Jeanette making it for family get-together's . . . as far back as 30 years ago. So, you can imagine how excited I was recently when she taught me how to make it.
We followed my grandmother's recipe in the church cookbook. According to my aunt, you can't make divinity if it's raining or if there is high humidity… it won't turn out right. So, fortunately, we had a clear day for it.
We got all our ingredients ready ahead of time. We cooked the clear Karo syrup and sugar slowly until it "spun a thread," as my grandmother would say. We used a candy thermometer in the pot to make sure it was just the right temperature to form a hard ball. I learned not to put the thermometer on the bottom of the pot, but just in the mixture. My aunt beat the egg whites until they formed a stiff peak, after she added the vanilla. I stirred the sugar constantly to make sure it didn't scorch.
After a long time of waiting and stirring, we reached the desired temperature of 260 degrees… and it was time to pour the sugar mixture over the egg mixture and add the chopped pecans. We then stirred it some more, over a sink of ice, until the shine was gone. Then we were ready to quickly form the pieces and place them on wax paper before the mixture had a chance to set.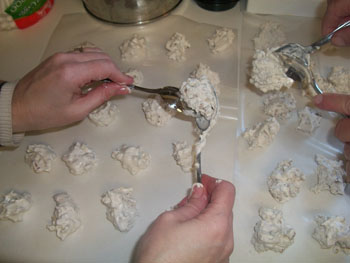 When our warm treats had cooled, we placed them on a pretty tray and celebrated with our family! They're like little pieces of white, fluffy, heavenly clouds!! And they're delicious!
To make your own "Delightful Divinity" for your next family celebration, ask us for the recipe and follow it precisely on a clear day! I'm sure you will find it to be divine!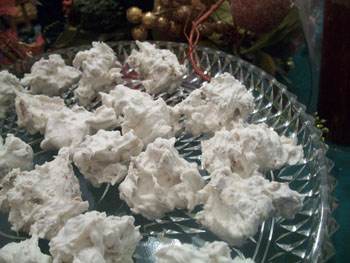 Copyright © 2008-2015 Debbie Reynolds Harper
Read more about the writer: Debbie Reynolds Harper
---
Post Your Comment...
---