Winter's Garden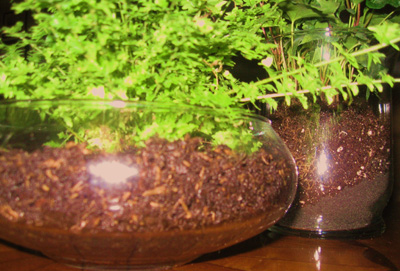 In the 'dead of winter' outdoors, the branches are bare and the colors have faded. Indoors, it pleases me to see life flourishing right on my coffee table! House plants are nothing new, and for those of us who give them a place inside our doors, we know the benefits and satisfaction of container plants. We've mindfully considered their pots, so as to coordinate with our decor, and we've chosen just the right finish to our planting. Peat moss, Spanish moss, or pebbles cover the 'unsightly' part so only the 'pretty' part of the plant shows.

If you feel the need to put your hands in a bit of earth, and want a fresh approach to your indoor gardening, skip the typical pots. Create a table-scape of 'mass plantings' in all glass containers. Use different shapes and sizes and different plants as well, to make an interesting display. Yes, all that is typically not visible--the dirt and the roots--is a good thing to see in this type of table-scape. The colors and the textures of the three elements are nature at work, and anything natural goes with everything.

Not quite sure? Can a crystal chandelier hang from a rough hewn beam ceiling? Absolutely! Can a Persian rug lie over a slate floor? You bet! The combination of rustic with sophistication has always worked and it will work in your indoor garden too.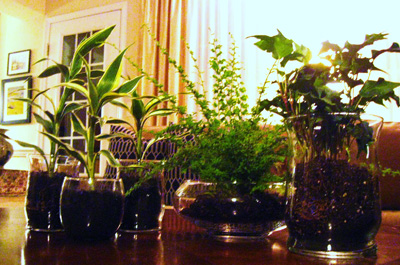 Copyright © 2008-2015 Kristy Beelendorf
Read more about the writer: Kristy Beelendorf
---
Reader Comments...
2011-02-08 08:13:07
"What a great way to display those large glass containers that are packed away in my attic."
- Terri
---
Post Your Comment...
---