Just Plain Bill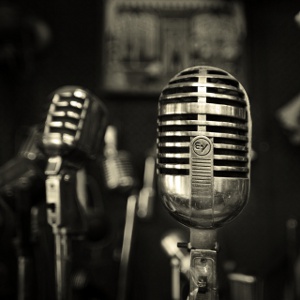 For 23 years, a 15-minute daytime radio program attracted listeners as "Just Plain Bill" solved problems in the fictional town of Hartville. He was not a superman—just an ordinary person who ran the barbershop in that small town. The tag line was "the real-life story of people just like people we all know."
In December 2010, Bill Floyd passed away suddenly. No one knew he had any physical problems, but he was called Home with a massive heart attack.
My husband and I had known Bill since the 1960s. But he was one of those always-there, faithful Christians that never had an important position and was known more by face than by name. We debated going to the funeral during the busy Christmas week, but decided we probably should go because probably not many people would be there.
To our shock, the funeral chapel was filled and so was the comparably sized overflow chapel with many more people standing in the foyer. As we tried to find a place to even stand, we could hear people all over the room quietly sharing stories about Bill. It seemed that everyone thought he/she knew Bill, and yet, in his unassuming way, few knew the impact he had had on many.
In the last years of his life, Bill had been on the maintenance staff of Maranatha Village, a retirement complex. We were in the overflow chapel which was largely made up of residents from Maranatha. The lady sitting next to me shared how Bill had fixed some plumbing for her just the day before he died. Another new resident required a lot of grab bars because of her difficulty in getting around. She had called Bill to ask about them. He came over quickly with a couple of grab bars to install. The resident said, "Oh, dear. I need a LOT of bars—like at least nine." Bill didn't miss a beat. He smiled and said, "I'll be right back," and he was.
Others talked about his friendly manner and his willingness to help wherever he was needed.
The minister shared that Bill loved his family, especially his grandchildren. He loved to be with them and involved himself in their activities. It was also revealed that he loved to take photos—especially pictures of everyday life and activities. He loved life and wanted to capture the essence of the life around him in photos.
He was faithful in his commitment to his church. He never had high-profile jobs, but he was willing to do whatever was needed. He was the long-time secretary for the Sunday school class he and his wife attended.
His wife suffered a stroke several years ago. Although she made a good recovery, Bill was a loving, attentive caregiver.
Bill was really "just plain Bill." He would have been astounded at the number of people who came out to celebrate his life. What that said to all of us is that, even if we had not realized it before, Bill was treasured by many. I am sure the Lord smiled as He welcomed Bill to his home in eternity, saying, "Well done, thou good and faithful servant."
Heroes are not just those with major accomplishments or fame. Most are just everyday people, "just like people we all know." Just like Bill.
Copyright © 2008-2015 Shirley Shedd
Read more about the writer: Shirley Shedd
---
Post Your Comment...
---