Asian Rice Wraps Your Family Can Prepare Together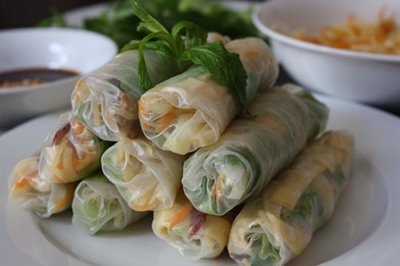 Living in Asia has taught me 1,001 ways to eat rice. But, if you want to go healthy, don't just think about exchanging fried rice for plain steamed. Think outside the takeout box. These Vietnamese rice pancake wraps provide a light meal option that can make vegetables more appealing to picky eaters, and involve the whole family in preparation.

You can find traditional rice pancakes in the Asian or international foods section of the supermarket. They are paper thin, dry and translucent rice wafers sold in stacks – a perfect consistency to wet with water until soft and foldable. No cooking! So get each family member chopping on a vegetable or fruit, while you prepare a delicious peanut sauce for dipping.

When the fillings are prepared, run a dry rice pancake under cool water until you have dampened the whole surface on both sides. Wait two minutes for the pancake to become soft and workable. Beware! Wait too long and it falls apart. You can blot excess water with a paper towel. During the window of opportunity, while the pancake is a flat circle, fill a third of it with anything you like. Then, roll the pancake like a burrito from one end, folding in the sides as you go. The sticky and stretchy consistency of the wet rice will help seal in the filling.

My Vietnamese friend rolls beautiful rice wraps from years of practice. She prefers to fill hers with cucumber, pineapple, boiled egg, chicken, lemon grass, and carrot, but you can try anything. The pancake is simply a plain wrapping for all your favorite healthy veggies, fruits or meats. Kids especially love the responsibility of creating their own wrap. But, resist the urge to fry them – these rolls are tasty and healthy just raw.

Serve the wraps immediately with a traditional Asian peanut sauce, and you have a great fresh meal with minimal preparation and flexibility for dietary restrictions. These rice wraps are gluten free, and depending upon the filling, they also can satisfy both vegetarians and vegans at your table. Selamat Makan (Happy Eating)!

Fast Asian Peanut Sauce Shortcut

The base of this sauce includes the following, blended in a medium heat saucepan:
1/2 cup peanut butter
1/4 cup broth or water
1 tablespoon rice wine vinegar
1 tablespoon tamari or soy sauce
¼ teaspoon fish sauce

Other options, depending upon your taste, include adding just one or more of the following spices to give your sauce a signature taste:
freshly grated ginger
freshly minced garlic
chili or curry powder for heat
mango, pineapple, or sugar
As we have adapted to our new culture, this has become one of our family favorites. I hope you enjoy trying it with your family too.
Copyright © 2008-2015 Julie Strohkorb
Read more about the writer: Julie Strohkorb
---
Post Your Comment...
---