Playground or Ice Cream?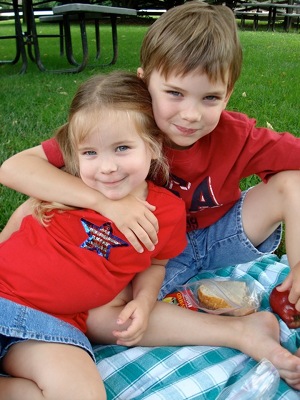 After what proved to be a luscious dinner in olde downtown, the thought came to mind to grab an ice cream at the place two storefronts down. We'd all talked about it before our meal, but our young son, Logan said he wanted to go to the tall, fabulous playground down the road where we'd built some memories on our last trek out this far from home. Because the sun was close to setting I said we would not have time for both--if we stopped to get an ice cream, it would be too late to go to the playground; if we went to the playground first, the ice cream store would be closed by dusk.
Logan took a tally—his little sister, Teagan wanted ice cream, Logan wanted playground; their grandma and I were neutral. He managed, in his slickest, convincing way, to bring Teagan around to his side by telling her we could get ice cream any time.
So, we went to the fabulous, tall playground, with curling tunnel slides 25' in the air, a sand pit, lots of running bridges and unending fun. I stayed in the car feeding and napping with Baby Stephen, (now 4 months old!), while they played wildly with their beloved grandma. It was a joy to watch them shining with laughter--but then Logan knocked his head and came running to me.
He'd really just brushed his ear hard against some equipment, but it hurt enough to prefer Momma's sympathy, so I was looking him over and kissing him when his little sister and grandma came to investigate. Teagan asked right away, "Is he OK?" and then, when assured that he was, chirped, "So, can we go get ice cream now?"
The four of us laughed so hard that I had tears in my eyes! No, Logan said, he felt well enough to go back to playing. So they did...for almost 2 hours!
Oh, gorgeous day! I think I owe Teagan an ice cream date!
Copyright © 2008-2015 Lisandrea Wentland
Read more about the writer: Lisandrea Wentland
---
Post Your Comment...
---