< Back to Kitchen Keeper Recipes
Strawberry Slush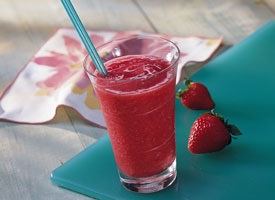 Try this great refreshing afternoon treat! It's easy to make and perfect for the upcoming spring weather. Kid's love this recipe too and can even help you make it. Give yourself permission to sit down and enjoy!
Ingredients:
6 ice cubes
16 strawberries
1/2 C. frozen concentrated lemonade
1/2 C. water
Directions:
In a blender or food processor, pulse the ice until crushed.
Add in the remaining ingredients.
Purée until thickand smooth.
Pour into two tall glasses and serve.
Copyright © 2008-2015 Melinda Henderson
Read more about the writer: Melinda Henderson
---
Post Your Comment...
---