Mister Steamy Ball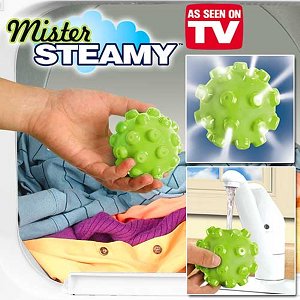 I'm always up for new household tips and ideas and ways to make things better. If there is a new product then I'm usually willing to try it. I had never heard of this little mist ball to put in the dryer, but when we received it as a gift, I was willing to try it.

At first it seemed to be working well—we just filled it up with water, like the directions said and threw it in the dryer with our clothes and didn't have to use any dryer sheets like we usually do.

But this new product didn't work quite like we thought it would. After a while, (a few weeks for us), the inner ball begin to shrink and leave fuzz on the clothes. I didn't realize how bad it was until I washed a load of black clothes and pulled them out of the dryer only to find them covered in white fuzzy lint. We had to rewash many of them.

I'm sure the product works great for some people and for quick touch ups to get wrinkles out instead of having to iron… but for our family, it proved not to be good for daily use.

I hope you find this information helpful if you are trying the product for the first time.
Copyright © 2008-2015 Debbie Reynolds Harper
Read more about the writer: Debbie Reynolds Harper
---
Post Your Comment...
---