< Back to Kitchen Keeper Recipes
Crumb Apple Pie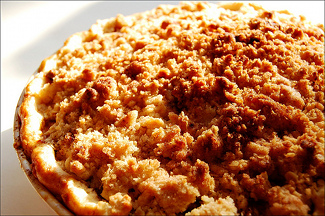 This is a delicious pie made top to bottom from scratch! Yes, it can be done. Being missionaries in another country, we don't always have the grocery items easily available to us, so I've learned to make them myself. This will be a treat your family will love. Enjoy!

Ingredients:

Crust:


1 ½ c Flour
2 T. Sugar
½ c. Oil
2 T. Milk

Mix together with a fort the flour and sugar. In a small bowl mix the oil and milk. Pour into the dry mix. Mix both together. Knead out into two small pie pans or one large deep dish pan. Use hands to press out well to the edges. This pie crust can be used for many recipes. For fruit pies, don't pre-bake but for cream pies it would need to be pre-baked for 10-12 minutes at 400.

Filling:


9 c. Apples
2/3 c. Brown Sugar
2 T. Flour
1 tsp. Cinnamon
1/2 tsp. Nutmeg

I use Golden-delicious or Granny-Smith apples. Cut and slice apples in thickness desired. Peeling is optional. Mix together with other ingredients and let set for a bit to make more syrup. Pour into two uncooked pie crusts or one large deep dish crust.

Topping:


3/4 c. Flour
1/2 c. Brown Sugar
1/3 c. Butter, softened
Mix together with a fork and sprinkle over top of apples. Bake at 400 for 60-70 minutes. You may need to cover top with foil the last 20 minutes or so it it starts to brown too much.

Note: This was a wonderful recipe shared with us over Thanksgiving at the home of our great Missionary friends, Michael and Dawn Marie Helin. Their daughter, Danika made it for us.
Copyright © 2008-2015 Melinda Henderson
Read more about the writer: Melinda Henderson
---
Post Your Comment...
---