< Back to Kitchen Keeper Recipes
Apple Bacon Skillet Pasta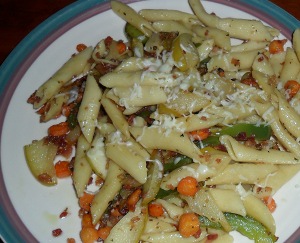 Our oldest son, Garrett, likes to experiment with various cooking adventures. One of his favorite creations is what our family has come to label "skillet pasta." He got the idea from the college cafeteria buffet line in which the chef created the dishes based on what the individuals wanted in the mix. It's delicious and we love it.

He takes prepared penne pasta and adds it to a sizzling skillet with olive oil where he has tossed in whatever vegetables he has chopped and prepared and stir-fried until they are tender but still a bit al dente. He says the trick is to add the penne pasta after all the vegestables and other items are ready. It's delicious and is always bursting with great flavors.

This is his latest creation I thought we would share with you. He started with simmering and caramelizing the onions and green peppers and then sliced up green granny smith apples, and carrots. He tossed in some grilled chicken and bacon bits and tossed it all in the olive oil with oregano until the penne pasta noodles were sufficiently coated and cooked to perfection (a little bit browned is the way I like it). Of course, you can use salt and pepper to taste and some garlic powder and parsley, if desired. He then topped it off with a little shredded mozzarella and garnish.

You could add tomatoes, pine nuts, almonds, fresh broccoli or snap beans, or anything that suits your fancy. Hope you enjoy making something deliciously wild and crazy for dinner soon!!
Copyright © 2008-2015 Debbie Reynolds Harper
Read more about the writer: Debbie Reynolds Harper
---
Post Your Comment...
---