Planning the Perfect Tea Party for Girls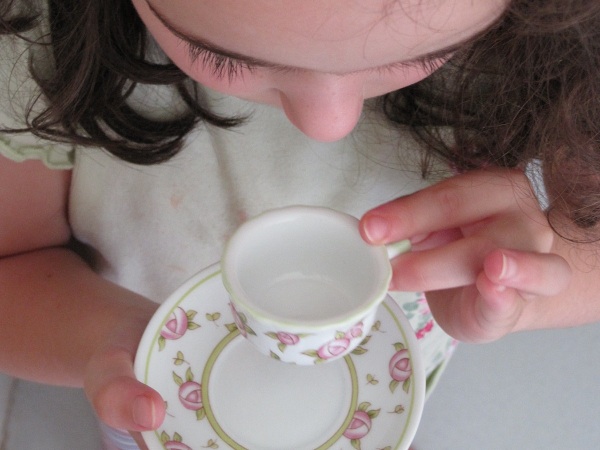 My five-year-old can throw a fabulous tea party with the swiftness of Martha Stewart. Just the other day, she drew a sign for the front door announcing, "Tea Party Today." She placed toy tea saucers and napkins around the dining room table, assembling crackers with a teapot of juice. Satisfied with her preparations, she sat out on the front step waiting for guests to arrive on rather short-notice. I secretly called and begged our neighbor's daughter to show up, and within ten minutes, we had a grand teatime.
Real tea parties are not all in the bag. Good hosting requires forethought. With a little more planning and collaboration with your child's ideas, you can host a tea party even Fancy Nancy will envy. Girls ages 4-8 are the perfect ages to practice good table manners and social graces. Here's how to host a tea party that tickles a girl's royal imagination, and reinforces practical skills such as the RSVP, table etiquette, and the "please and thank you" rule.
Invitations
Give yourself some weeks to prepare. Your daughter can design her own invitation, but include a special RSVP card (as in a wedding invitation) to encourage little invitees to take action and respond. Make the RSVP card whimsical, with checkboxes for "I will come," "I cannot come," or "I'm still checking with my Mom." Make a place for the invitee to write her name, her favorite color, or her favorite flavor of tea. You can enlist the help of parents to guide this process, and even invite mothers with their daughters for more fun.
Decorations
If you want to host an event that truly teaches a few rules of etiquette, then start with table decor that provides learning opportunities. Dollhouse table and chair furnishings with tiny tea sets are great micro-stages for teatime play. Have several vignettes set up on the big table, where girls can practice pouring out tiny cups of water or juice for dolly while they wait for the hostess to serve. Miniature tea sets are easily available at most dollar stores. Have plentiful items on the table for practicing "polite passing," and remember to discuss napkin placement.
Fancy fare
Most children will appreciate finger foods, but offering each child the chance to cut a slice of cake or pour tea for a neighbor is worth the mess or spill. You cut the first slice, show and discuss the steps, then ask for volunteers. Who should get the first piece? When is the polite time to start eating? What do you do in the case of an accident? These are all possible discussion items during the serving process.
Circle games
Don't expect table time to engage kids for long, especially if you are lecturing on proper etiquette! Instead, propose a game of "Please pass the..." and invite girls to use their best dramatic voice to ask their neighbor to "Please pass the sugar." The neighbor responds with, "Why, yes! Of course!" and fulfills the request. The game continues around the table until every child has had the opportunity to both ask for and receive something on the table. Also, consider providing a homemade deck of cards on the table for a game of "Give a Compliment" or "Let's chat about...," where each card contains a mini-script of a way to compliment a neighbor, or a topic to talk about during tea. Ask willing participants to take a card and initiate what it suggests.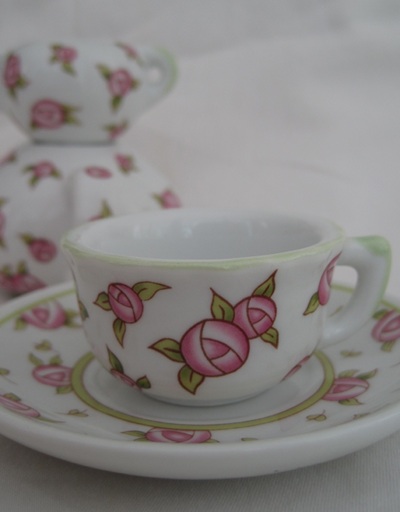 Story time
A selection from Karen Santorum's book Everyday Graces: A Child's Book Of Good Manners may make a positive addition to your party as well. Have a guest choose a selection and read together.
Songs
Transform the old favorite "I'm a little teapot" song into a teaching tool with this added verse:
"I place a napkin in my lap.
Sit up straight, politely chat.
Please pass the tea, thank you for that.
To the cook I nod my hat."
Party favors
Give each guest a decorative fan before leaving, with a copied list of Victorian fan language instructions. Some of the most commonly recognized fan signs are found on the Internet – for example, touching the right cheek with the fan means, "Yes." Touching the left cheek means, "No." But you can encourage girls to create their own secret fan gestures to communicate with friends. This is always a fun exercise for girls, and a lesson in subtle communication between guests at a 19th-century tea party.
Introducing rules of etiquette to young girls really can be as sweet as sugar and spice! So, pour on the hospitality this spring with a tea party to remember.
Copyright © 2008-2015 Julie Strohkorb
Read more about the writer: Julie Strohkorb
---
Reader Comments...
2011-04-05 15:04:27
"Brings back wonderful memories and inspires me to join the fun! Here's to tea time!"
- Decie
---
Post Your Comment...
---