Loving Communication in Marriage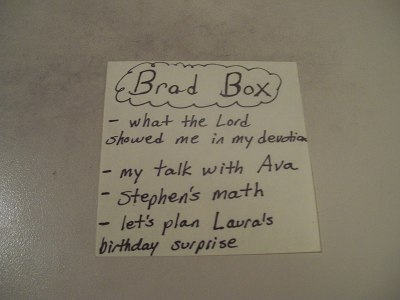 Consistent communication in marriage is critical to ensure a strong, healthy bond over many years. Years ago I came across a wonderful little way to keep daily communication alive in our marriage. It was an idea sparked by marriage counselors Les and Leslie Parrot. I hope this works for you, too!
It's called my daily "Brad Box." Brad is my husband. It's simply a little post-it-note placed on my kitchen counter (where I spend most of my day with young children at home!) where I can jot down a list of thoughts, reminders, or revelations that the Lord gives me throughout a sometimes 12-13 hour day before seeing Brad again. I cannot interrupt him with phone calls all day (except, of course, for emergencies) every time I think of something I need to tell him.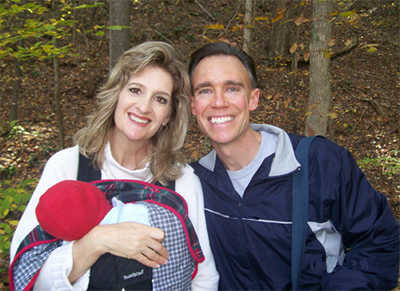 Keeping a running conversation list (not a laundry list!) on my counter keeps me from forgetting what I wanted to share with him. At the end of the day, when the children are all in bed, we have "Brad and Alyson time" when I can go through my list and Brad can go through his before we go to bed (Brad keeps an "Alyson Box" in his task list on his computer!).
Keep in mind, wives, this is not a "complaint list" to burden your husband. It is simply a tool to keep him updated on the affairs of your household while he's been gone.
Enjoy Loving Communication in your marriage and a new way to keep communication alive!
Copyright © 2008-2015 Alyson Shedd
Read more about the writer: Alyson Shedd
---
Post Your Comment...
---