< Back to Kitchen Keeper Recipes
Chocolate-Covered Peanut Butter Eggs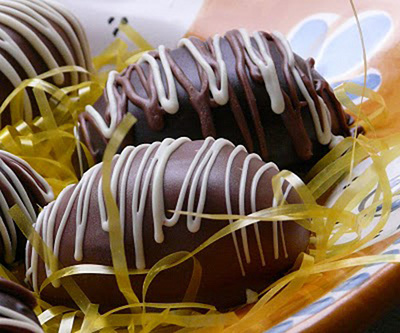 These classic chocolate-covered peanut butter eggs are a special homemade Easter treat that is both beautiful and delicious.
Ingredients:
1/4 cup butter
1/4 cup brown sugar
3/4 cup powdered sugar
1/2 cup peanut butter, creamy
1 tsp. vanilla
1 pkg semi-sweet chocolate chips
2 T. shortening
Directions:
In 1-quart microwave bowl, microwave butter and brown sugar for 1 to 1 1/2 minutes, stirring every 30 seconds or until brown sugar is melted.
Stir in powdered sugar, peanut butter, and vanilla.
Shape by teaspoonfuls into egg shapes.
Chill.
In double boiler or heavy saucepan, over low heat, melt chocolate chips and shortening.
With wooden pick, dip each egg into chocolate mixture, coating completely.
Place on wax paper-lined baking sheet.
Chill and store in refrigerator.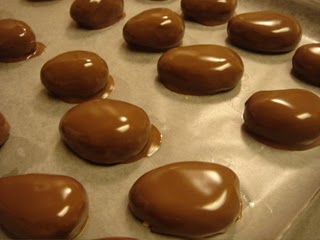 Copyright © 2008-2015 Melinda Henderson
Read more about the writer: Melinda Henderson
---
Post Your Comment...
---