Classic Easter Meal Made Easy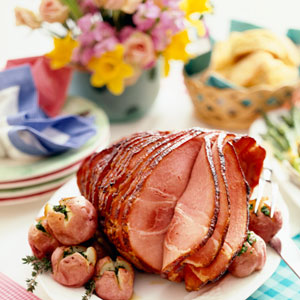 After Sunday morning service and the Easter egg hunt, you may be too pooped to prepare a gourmet meal. If you are a mom who is overloaded with things to do and not enough time to get it all done, then make dinner a breeze this year.
Let someone else cook the main dish. Who says that the honey glazed spiral ham has to be cooked in your oven? The Honeybaked® Ham Store is the busiest place on earth during the holidays and Easter is no exception. Let them offer you a good deal on a tender ham or turkey breast sized to fit your family. I would caution you to order early. Last minute orders could be met with disappointment or at least a very long line to wait in. Pick it up the day before or early Easter morning to avoid the crowds. Check the store hours in your area.
Pre-planning is a lifesaver. If you are making red potatoes, whipped potatoes or sweet potato casserole, why not prepare the potatoes ahead of time? These little red potatoes can be boiled ahead of time. White potatoes can be boiled and mashed a day early then warmed up the day of. Sweet potatoes can be baked a day early also and the ingredients put together and baked the next afternoon. Preparing as much of the meal the day before will put less pressure on you. If good old-fashioned yeast rolls are on your list, try using Parkerhouse rolls. They are delicious and are carried in the frozen section of your grocery store. Take them out the night before to let the dough rise.
So, what is on the menu this year? Here are a few classic choices. In the vegetable department, try collard greens or fresh green beans seasoned with garlic. If you choose turkey over ham, then stuffing is a must. To save time it can come from Stove Top® or ask your mother for her time-honored recipe for sausage stuffing-but again, do it the day before to save time. Whenever I have ham for dinner, I have to have macaroni and cheese. And, the more cheese it has, the better.
Dessert anyone? Making that chocolate cake or that pecan pie just right, takes time that you don't have. Know a good bakery in town? Pre-order your desserts. To make sure that you had some part to play in the dessert process, buy a gallon of ice cream to accompany the cake and pie.
Take a load off this year. You should be able to enjoy your Easter Sunday, too. Let others do the bulk of the cooking for you this year. Then you can truly Celebrate!!
Copyright © 2008-2015 Debbie Reynolds Harper
Read more about the writer: Debbie Reynolds Harper
---
Post Your Comment...
---