My Journey to Motherhood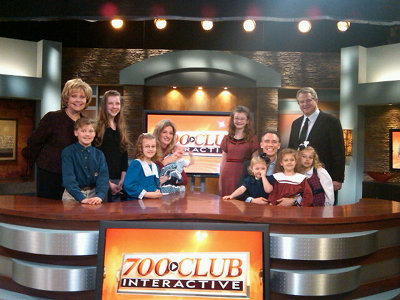 While growing up in the 1980's, I often dreamed about what I wanted to be "when I grew up." Being a wife and mother never seemed to hit my radar. I recall countless times hearing comments like, "Make sure you have your college degree before you get married," as well as, "Once you're married, give yourself at least five years before you start having children." I also clearly remember someone of high influence say to me, "Alyson, anyone can get married and have a bunch of kids . . . don't get tied down . . . but rather go for your dreams . . . you live only once."
All of these comments came from well-meaning people in the church. Being a natural born people-pleaser and having a bent toward being easily influenced, I took all of this advice and ran full steam ahead . . . in pursuit of myself and what would make me happy.
I did end up getting married upon college graduation, and we waited (through the practice of birth control) to allow God to bless us with children for six long years. For six of my most fertile years in my 20's, I placed the blessing of God on the altar of my career, choosing barrenness instead. My identity and sense of worth was completely wrapped up in my "titles" and roles. I liked children very much . . . as long as they were not mine! I would hear women speak so fondly about their desire for children . . . many children . . . and I simply scratched my head and walked away. I remember attending baby showers, smiling on the outside, yet on the inside thinking, "Better her than me!"
Brad and I were both unified. We both felt that children would somehow get in the way of our advancing careers. We loved the Lord Jesus and served Him faithfully . . . but our hearts were far from surrendered.
We then entered our 30's and thought it was a good time to have a baby. In God's mercy, He blessed us with Olivia, our first-born. We wanted our two children to be close in age, so we did not wait long to have another. Twenty-three months later, we were blessed with another daughter, Sophia. How sweet . . . two girls to dress up and enjoy! Something was missing, however . . . a son to carry on the Shedd name.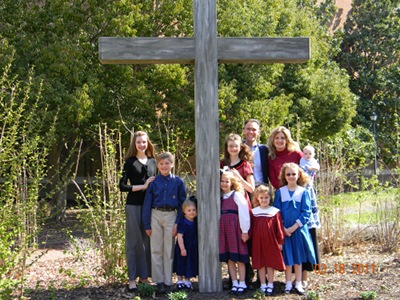 Baby number three came, and we were blessed with a BOY (Stephen)! At this time, I was working on my master's degree and teaching at the university level two nights a week. I was completely exhausted being up half the night working on college papers and nursing a baby! Most people would say, "You now have your boy, so you must be finished." We were not comfortable with a "permanent" surgical decision, and I started to realize that fertility was coming rather easy for me. "Maybe God has a plan here," I mused.
At this point, we thought an even number of four would be perfect for the family picture over the mantle. I assumed we would have another boy. Then our "picture" would look perfect. Can you see at this point that Brad and I felt we were somehow in charge of all of this? Well, God in His mercy gave us a fourth child—a GIRL! Our beautiful Ava is a delight to her father as they play violin duets together.
At this time I was 38 years old and felt it wise "in my own eyes" that we should stop while we were ahead. Then, in God's providence He led a dear friend who had eight children herself to speak with me about the "blessing" of children. She led me to the following books that have changed our lives for all of eternity:
The Holy Bible!
A Full Quiver: Family Planning and the Lordship of Christ by Rick and Jan Hess
The Way Home by Mary Pride
Be Fruitful and Multiply by Nancy Campbell
The last book was the "breakthrough" book for my husband . . . as we read it together on a Christmas holiday trip, he became convinced that we needed to give God sovereign rule over my womb.
I fell on my face before God and cried out for forgiveness. I had not loved what God loved. I had judged women who "only" wanted to be wives and mothers as unintelligent and lacking of gifts and talents. We prayed over my womb that God would restore the years we had fed to the locusts . . . a "Hezekiah" prayer of redeemed fertility and mostly a love for children.
God has been so good to us. He has blessed us "so far" with eight children (our eighth child born shortly after my 46th birthday), and we now consider it our highest calling to love and disciple them to spiritual maturity for the advancement of God's Kingdom . . . the very reason and purpose for why He commands us to be fruitful and multiply! What an honor to now partner with God as His daughter to help advance the Kingdom of God through my surrendered womb. I absolutely love my children and look forward to each stage of life with them.
My children (and yours!) are, according to Psalm 127, like "arrows in the hand of a warrior." They will advance the gospel and reach the people of their generation for Christ, should He tarry. Our job is simply obedience . . . God's part is the advancement. God still chooses to use people . . . so the more children Christians have . . . the more people God has to work with!
God may choose to bless you with two children or ten children . . . but what a peace knowing that as long as you are surrendered, it is His work.
I love being a mother. God has so graciously reshaped and remolded my gifts and talents to serve my family and the Body of Christ. He didn't cause me to lose my abilities because of being a mom. I am so thankful that the Lord gently led me to this remarkable path through His perfect Word and through the beautiful advice and encouragement from dear friends who loved me and modeled for me what true motherhood looks like.
May God do the same for you . . . Happy Mother's Day!!
Copyright © 2008-2015 Alyson Shedd
Read more about the writer: Alyson Shedd
---
Post Your Comment...
---