< Back to Strength for Your Spirit
Names of Our God, Part III: Jehovah- Shalom, The Lord Of Peace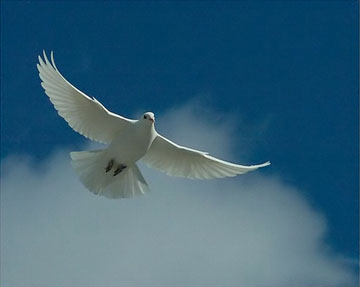 Do you know what your names means or where it comes from? Many of us may have a name passed onto us by our family. There was a time when the meaning of a name was very significant. Parents would choose carefully the name they were going to give to their newborn child. This chosen name was something that marked them as a person. It told a story. It told who they were.
When we refer to God we use names such as Lord, Savior and Heavenly Father. All of these names refer to God.
When the Scriptures were written in Hebrew the name given to God was Yahweh (and in our translation it is Jehovah). It is the powerful defining name of God that was used in the Old Testament: A name so holy and so revered that it was not spoken aloud for fear that they would mispronounce the name of the divine God. And when the name was written they would throw the pen away to never use the same pen again that had been used to write the name of their God.
Jehovah/Yahweh. This name for God comes from the verb "to be," meaning simply but profoundly, "I am who I am," and "I will be who I will be." It was the name by which God revealed Himself to Moses in the burning bush (Exodus 3:14). Although this name Jehovah was given to God in the Old Testament it still describes who He is to us and for us today. Hebrews 13:8 says ¨Jesus is the same yesterday, today and forever. ¨ Who He was, He will always be.
Let´s consider another name of Jehovah: SHALOM
In the book of Judges we find an Israelite named Gideon. Because his people had been at war for seven years, Gideon was a man who greatly desired peace. He knew his only hope for peace would come from God. When he cried out to the Lord for help, God responded by reminding him of the mighty way He delivered the Israelites from the oppression of the Egyptians years earlier. God then instructed him to go and fight his enemy. Gideon answered by saying, "But God, I'm not strong enough to do that." The Lords response to him we find in Judges 6:14, "Go in the strength you have and save Israel out of Midian's hand. Am I not sending you?¨ Then the Lord continues in verse 23, I will be with you and you will strike down all the Midianites together. ...Peace! Do not be afraid. You are not going to die" (NIV).
Judges 6:24 "Then Gideon built an altar there unto the LORD, and called it Jehovah-shalom...God our Peace" (NIV).
Gideon built an altar at the place where the angel of the Lord appeared to him. The Lord gave them victory and granted His peace once again to the Israelites.
Today JESUS is OUR PEACE- Jehovah Shalom
John 14:27 Peace I leave with you; my peace I give you. I do not give to you as the world gives. Do not let your hearts be troubled and do not be afraid (NIV).
Matthew 11:28 Come to me, all you who are weary and burdened, and I will give you rest (NIV).
Today Jesus is your Peace! Listen closely as the voice of the Holy Spirit says SHALOM (peace) Jehovah-Shalom (the God who IS peace). God has promised to be with you and bring you peace. In your life, there is no need to be afraid. He only asks that you trust and obey Him. God's beautiful gift of peace offers hope for healing and reassurance that your Heavenly Father will never leave you.
You're not alone; that is an assurance of peace!
Prayer: Father, I thank You today that You are my Jehovah-Shalom. You are the God of peace. I thank You because this is a promise of Your Word and today I declare that promise over my life, over my family, over my job, over my present and over my future. May my life be proof that I serve the Jehovah-Shalom: The God who is PEACE: The God who the violent winds must obey His voice. Thank you that I can trust You to bring peace for and in all circumstances. To You I give ALL the Glory. Amen
Copyright © 2008-2015 Melinda Henderson
Read more about the writer: Melinda Henderson
---
Reader Comments...
2011-06-02 14:56:24
"It is good , God bless you"
- Shadrack
---
Post Your Comment...
---