< Back to Strength for Your Spirit
By Faith, Embrace Grace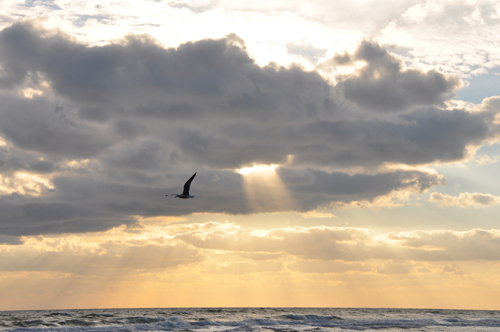 "Let us therefore draw near with confidence to the throne of grace, that we may receive mercy and may find grace to help in time of need." Hebrews 4:16 (NASB).
"…I entreated the Lord three times that it might depart from me. And He has said to me, 'My grace is sufficient for you; for power is perfected in weakness.' Most gladly, therefore, I will rather boast about my weaknesses, that the power of Christ may dwell in me." 2 Corinthians 12:8-10 (NASB).
Introduction
Have you ever experienced times of trial, stress or even change that you thought you could not endure, yet somehow you got through it? There is a gift that God provides to all who will receive it. It is a gift that is sent to help us in those times of need. The Bible calls it, "grace."
Last August we took our firstborn son to college 1300 miles away. I had homeschooled him since first grade. So when he first expressed the desire to go so far, I could not imagine it. Once we visited the school, I became more open to the idea. Then the time came for us to leave him there.
All the parents gathered in the auditorium for the final session. The president of the university began to speak and in his wise and comforting words, I recognized the grace of God being extended to me. I understood at that moment that I had a choice. I could wallow in trepidation and sorrow or I could embrace the grace of God. I chose to embrace the grace and the peace that goes with it. So, I embraced the grace and looked forward to adjusting to the change rather than mourning the absence of our eldest child.
Likewise, our son also embraced the grace needed to face the challenge of adjusting to a new environment and being on his own. God's grace has been so magnificent that even when I am asked, I can honestly say that I don't miss my son! I love him, pray for him, keep up with him and encourage him, but I do not miss him. It is truly the result of embracing the grace of God and setting my focus on completing the new assignments that lay ahead of me.
I am sure many of us have heard the word "grace" before but what exactly is it? I grew up hearing this term in relation to giving thanks to God for my food. Before we would eat my mother would remind me to say my "grace." When I became a teenager, I began to go to church. There I began to here this term in relation to salvation. This use of the word is clearly expressed in the familiar hymn, "Amazing Grace." So, we will explore two major facets of the meaning of this term and how we can access its benefits for our times of need.
Exploration
With only a couple exceptions, the word "grace" in the New Testament is the Greek word, "charis." Strong's Expository Dictionary defines it as "Divine influence upon the heart and its reflection in the life." Words associated with "grace" are favor, benefit, joy and pleasure. Vine's Dictionary of New Testament Words indicates that it can even refer to power for ministry.
Because grace has various uses, one must determine its meaning by the context of the verse in which it is used. Most commonly, we associate grace with salvation. Ephesians 2:8 reads: "For by grace you have been saved through faith…" In this verse, grace is used as unearned favor bestowed on an undeserving recipient for salvation. It is received by faith. This is the usage with which we are probably most familiar.
There is another aspect of "grace" that is expressed in the verse listed at the top of this article. It is the Divine power to endure challenges, change and difficulties. It is the power that helps us in our weakness. It is strength and favor bestowed freely from the throne of God to those who ask (Hebrews 4:16). It is a gift that flows out of God's unconditional love and mercy.
In times of sorrow or distress it envelops us like a warm blanket and carries us through. In times of weakness or hardship, it gives us strength and power to endure and fulfill the task or the call that God has given us. God extends this freely to all, whether they are aware of it or not. It is evident in the courage, comfort and strength seen among those that endure disaster, death of loved ones or dramatic changes in their lives. How do they pick up the pieces and go on? Whether they are aware of it or not, it is because of the grace of God. Though there are those who may unconsciously experience God's grace, it saves us a lot of worry and stress if we consciously access it.
When we receive Christ, we are given immediate access to the throne of God. A parent-child relationship is established between us and God. Whatever belongs to Him at that moment becomes ours. This includes His Divine nature as well as His power, favor and privileges. He has whatever we need. We only have to yield to Him or ask of Him and receive what He delights to bestow upon us. In regards to the grace of God, we just need to receive it—turn our attention to Him and embrace His grace by faith. Faith is the currency of the Kingdom of God. Hebrews 11:6 (NASB) says: "Without faith, it is impossible to please God. Those that come to Him must believe that He is and is a rewarder of them that diligently seek Him." In Hebrews 4:16, He invites us to come and receive this grace.
Invitation
What is your challenge today? Is it financial, loss of a loved one, a new job, releasing a child into the world or to missions, starting a new venture, facing a difficult situation or a serious illness? The grace of God is available to you. Look to God and embrace (receive by faith) the grace of God to walk through it. He delights to give it to you. Allow it to envelop you. Let go of your anxiety, fear, insecurity or grief and receive His grace. "His strength is made perfect (complete, mature) in our weakness," 2 Corinthians 12:9,10 (NASB). Let's pray.
Prayer
"Lord thank You for Your perfect love that is bestowed on me. I turn from my fear, frustration, anxiety, sorrow and weakness and I look to You. By faith, I receive Your grace and power to conquer this challenge and live in peace and joy. Thank You for this grace. In Jesus' name, Amen."
*picture by Paul Bates
Copyright © 2008-2015 Shermaine Jones
Read more about the writer: Shermaine Jones
---
Post Your Comment...
---