Brilliant Sacrifice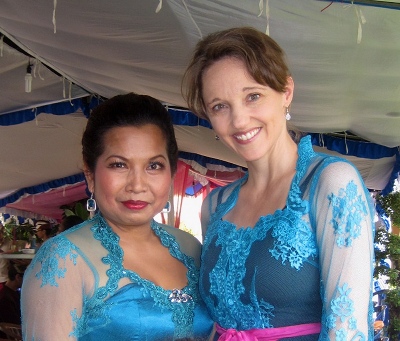 It is a brilliant morning in Bali, and preparations for a special Hindu wedding ceremony are underway. Erawati cuts flowers, slices of cake, and other symbolic and fragrant items to arrange on special offering plates. These votives are placed at the entrance to her home, and in special niches of the merajan, or family temple, to ask the ancestral spirits for blessing and protection.
I feel honored as a Christian and a foreigner to be allowed into this intimate experience. But my Hindu friend has welcomed me like family, and she explains every detail of meaning in her actions. I watch and listen, amazed at the reverence with which she attends her daily tasks. She disappears occasionally for private prayer.
Important events for the Balinese, such as a child's entrance into adulthood, weddings, and cremation, are marked with special ceremony and prayer. While I wait in Erawati's parlor, I pour over dozens of photo albums that retell important events of her life. The colorful pictures show clearly her commitment to family and faith. She is passionate about people, and wants me to meet her many friends.
Devotion describes Erawati. Watching her tireless commitment humbles me, and makes me contemplate my own devotion to God. For, what shape does devotion take in the life of a Christian? It certainly is not a burnt offering, as in the days of Moses. But, perhaps daily prayer? Bible study? Church attendance? Community service? The freedom I enjoy in Christ doesn't release me from these disciplines, b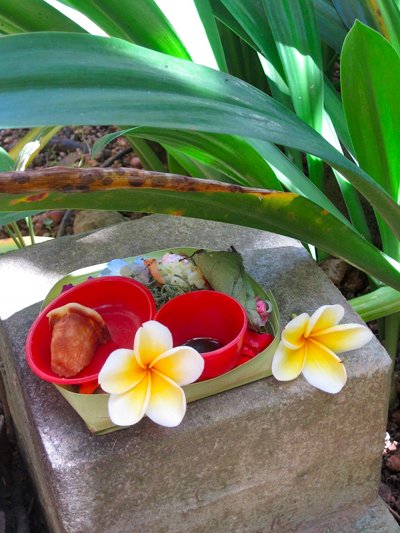 ut somehow I long for a balance of works that nurtures my faith. Erawati's dedication compels me to analyze my own devotion to God.
Rising early in the morning, she prays first, prepares her offerings, then hurries down the street to pick up some wedding flowers. Her cell phone rings frequently – a friend needs a ride, the seamstress has finished the blouses, and her sister is coming to bring me to the hotel. In the busyness of the day, I cannot help but marvel at her sacrifices for others. Sacrifice isn't so easy for me.
During the Easter season, Christians contemplate the meaning of the cross and practice personal sacrifices such as fasting to remind themselves of the ultimate sacrifice Christ made. But, what about the rest of the year? Sacrifice must be as tangible as giving the last cup of cooking oil in your pantry, as precious as your only five minutes of free time, as meek as the harshest word mercifully held back, and as fragrant as a flower.
If you are a Christian, what daily offerings are you giving to God? We walk in the freedom of Christ, but each one of us also must "take up their cross daily and follow me" Luke 9:23 (NIV) with loyalty and selflessness. How will you show Christ your devotion today?
Copyright © 2008-2015 Julie Strohkorb
Read more about the writer: Julie Strohkorb
---
Post Your Comment...
---