< Back to Kitchen Keeper Recipes
Mangospacho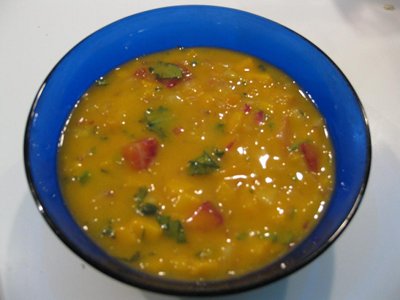 Chilled soup recipe from Holland America Cruise Line
This is a great treat for the spring or summer!
Serves 8
INGREDIENTS:
8 cups peeled and finely diced mango (about 12 mangoes)
1 cup water
1 cup ginger ale
1/2 cup rice wine vinegar
1/2 cup light olive oil
1 tablespoon granulated sugar
Kosher salt and freshly ground black pepper to taste
2 cucumbers, peeled, seeded and finely diced
1/2 cup finely diced red onion
3/4 cup chopped fresh cilantro
DIRECTIONS:
In a blender or food processor, puree half the mango with the water, ginger ale, vinegar, oil and sugar until smooth; Season with salt and pepper. Transfer the soup to a nonreactive bowl. Cover and refrigerate until cool, about 2 hours.
In another non-reactive bowl, combine the remaining 4 cups mango, cucumber, red onion and 1/2 cup cilantro. Cover and refrigerate until cold.
To serve, divide the cucumber mixture among chilled soup bowls. Ladle the soup over the cucumber mixture and sprinkle with the remaining 1/4 cup cilantro. Serve immediately.
Copyright © 2008-2015 DeeDee MacDonald
Read more about the writer: DeeDee MacDonald
---
Post Your Comment...
---