< Back to Kitchen Keeper Recipes
Apple and Pear Gazpacho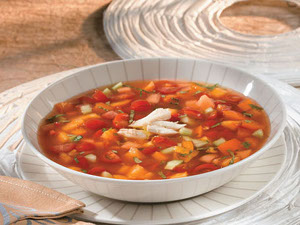 This gazpacho was another recipe from the Holland America Cruise Line. A treasure for the warm weather.
Serves 8
Ingredients:

1 tablespoon unsalted butter
2 Golden Delicious apples, peeled, cored, and sliced, plus 1 extra for garnish
2 Bartlett (or Williams) pears, peeled, cored, and diced, plus 1 extra for garnish
Juice of 1 lemon
Juice of 1/2 lime
1/2 vanilla bean
2 cups unsweetened apple juice
Pinch of ground cinnamon
1/2 cup crème fraiche
6 lemon balm leaves, shredded, plus extra sprigs for garnish
Directions:
In a large skillet, heat butter over medium-high heat.
Add sliced apples, diced pears, citrus juices, and vanilla bean.
Cook a little, allowing apples and pears to meld with butter, then add apple juice and cinnamon.
When fruits are tender, remove from heat, cool slightly, and remove vanilla bean.
Transfer to a container and stir in crème fraiche and lemon balm.
Cover and refrigerate until cold.
To serve, spoon into shallow bowls, garnish with sliced of remaining apple and pear.
Copyright © 2008-2015 DeeDee MacDonald
Read more about the writer: DeeDee MacDonald
---
Post Your Comment...
---