< Back to Kitchen Keeper Recipes
Linguini with Rock Shrimp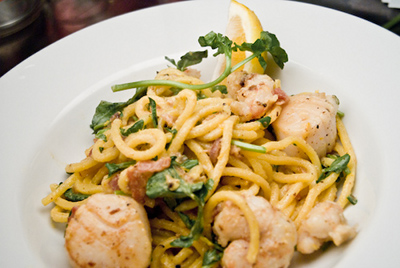 Ingredients:
3 tablespoons olive oil, plus extra for drizzling
1 clove minced garlic
1/2 cup diced onion
1/4 cup chopped fresh thyme leaves
1/3 cup diced celery
1/3 cup diced carrot
1/3 cup diced leek (white part only)
6 ripe medium tomatoes: peeled, seeded & chopped
Salt & pepper to taste
1 pound thin linguini
1/2 pound rock shrimp peeled
1/2 pound sea scallops
1 (6 ounce) package precooked frozen baby shrimp, thawed
1/4 cup chopped fresh parsley
4 large sprigs basil
Directions:
In a medium skillet, heat 1 1/2 tablespoons oil over medium-high heat. Add garlic, onion and thyme. Cook, stirring until onion becomes softened and translucent. Do not let the onion brown. Add celery, carrot and leeks. Cook, stirring until all shrimp turn pink, about 2 minutes. Add baby shrimp and heat for 2 to 3 additional minutes. Add reserved sauce and pasta and mix thoroughly. Divide linguini among plates. Sprinkle with parsley and garnish with basil springs. Serve immediately.
Copyright © 2008-2015 DeeDee MacDonald
Read more about the writer: DeeDee MacDonald
---
Post Your Comment...
---