Soup Savvy Manners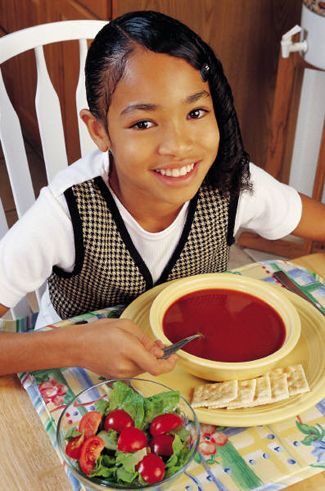 Good table manners are always in order. Eating soup properly is a must. When eating soup, always hold the spoon to the side so as not to block eye contact with those you are dining with. Also, remember to always spoon away, rather than toward yourself when eating soup. The reasoning behind this is to avoid any unsightly tips of the bowl that might cause an accident.
Here are some other etiquette tips on soup that might be helpful:
An American lady, True Politeness,, 1853:
"It is usual to commence with soup, which never refuse.... When all are seated, send a plate of soup to every one. Do not ask anyone if they will be helped, as everyone takes it, of course."
Eleanor Roosevelt, First Lady of the U.S. and ghostly interlocutor of Hillary Rodham Clinton:
Eating Soup. Thick soup served in a soup dish is eaten with the soup spoon. If you want to get the last bit of it, there is no impropriety in tipping the dish away from you in order to collect it at the edge. Indeed you are paying a subtle compliment to your hostess by this demonstrating how good it is. Drink thin soups and bouillons served in cups, as you would tea or coffee, ;but if there are vegetables or noodles left in the bottom, eat them with the spoon, rather than struggle unattractively to make them slide from the cup into your mouth. (Book of Common Sense Etiquette, 1962)
American expert Amy Vanderbilt's Complete Book of Etiquette, 1952:
Tipping of Dishes. The tipping of soup or dessert dishes is acceptable if the plate is tipped away from the spoon, not toward the eater.
The Handled Soup or Bouillon Cup. Soup or bouillon served in a handled cup or even in a small cup-size bowl (Oriental fashion) is drunk. If there are dumplings or decorative vegetables or other garnish floating on top, these may be lifted out first with the spoon before the soup is drunk. Noodles or other things which may be in the bottom of the cup are spooned up after the liquid has been drunk. How to hold cups. A handled cup is held with the index finger through the handle, the thumb just above it to support the grip, and the second finger below the handle for added security. The little finger should follow the curve of the other fingers and not be elevated affectedly. It is incorrect to cradle the cup in one's fingers if it has a handle. This is done only when the cup is of Oriental style without handles.
Enjoy your soup and your savvy soup manners!
Copyright © 2008-2015 Debbie Reynolds Harper
Read more about the writer: Debbie Reynolds Harper
---
Post Your Comment...
---