Spiritual Goals: Purposeful Growth
" Do you not know that in a race all the runners run, but only one gets the prize? Run in such a way as to get the prize. Everyone who competes in the games goes into strict training. They do it to get a crown that will not last; but we do it to get a crown that will last forever." I Corinthians 9:24-25 (NIV)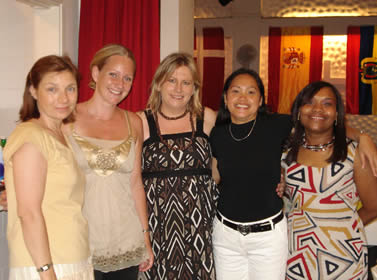 "Cultures divide, His love unites."
Left to right: Anneli, Finland; Miriam, Denmark; Hanna, Finland; Rosalie,
Pillippines; Sandra, Dominican Republic, having dinner together at a Ladies
Fellowship at the International Church, Las Palmas, Canary Islands.

Goals. What are they? Do we need them? How do we make them?
A goal is a statement of purpose. It is a direction to go in; it gives us something to strive for and allows us unlimited growth in our personal lives. The truth is most of us make goals everyday, goals that we would call short term goals. For example, what time you'll wake up, what time you'll go to bed, whom you need to call, where you need to go. All of this is based on our opinion of what we need to do: "goals" we need to accomplish in a 24- hour span. How about "to do" list? Yes, we make those so we don't forget what is important and what we need to accomplish. And, oh, how great it feels when we begin to mark those items off one by one as we accomplish those tasks.
As Christians, in the same way that we make daily goals for ourselves in what we will do and how we will spend our time, even more we need to give focus to planning spiritual goals for our personal walk with the Lord. Spiritual goals are milestones in our lives with Christ. As we accomplish them, we then are that much closer to finishing this "race of life" that He has put before us.
The apostle Paul was a model in setting spiritual goals for personal growth. His life was focused on one ultimate goal in life. Look at Philippians 3:12-14,
12Not that I have already obtained all this, or have already been made perfect, but I press on to take hold of that for which Christ Jesus took hold of me. 13Brothers, I do not consider myself yet to have taken hold of it. But one thing I do: Forgetting what is behind and straining toward what is ahead, 14I press on toward the goal to win the prize for which God has called me heavenward in Christ Jesus.
In verse 12, Paul was simply saying, "I have not already reached where I need to be. I am still not what I should be, BUT I move forward, looking ahead." Verse 13 repeats, "that I have not yet become all I need to be, BUT I cannot focus on the mistakes of the past which I cannot change. I must look forward and "press on," never thinking that what I have accomplished is sufficient. And then we see in verse 14 that the ultimate goal was kept in sight, that Heaven would be his home.
Goal setting is vital to our life in Christ. It is a step to a successful, spiritual journey with the Lord. Setting spiritual goals helps us take charge of the direction of our spiritual lives and realize that we have just this one chance to live the life that God desires for us. Some of those goals may be reading the Bible through in a year, dedicating a specific time and place each day for prayer, becoming more involved in our local churches, going on a missions trip, beginning to verbally share our faith more boldly. Other goals also may include lifestyle changes that spiritually impact our lives including our character and habits.
In the coming days as you find yourself thinking of spiritual goals and what you desire in your own life, I encourage you to write the goals down and look back at them often. Set a date to accomplish a particular goal so that you will grow, learn and develop into ALL the Father desires you to be.
We're on God's team, together! We are His athletes in the great race to eternity. Let's perform in optimum condition.

Prayer:
"Lord, I truly desire to be all you want me to be. I know that you have ordained each day that I live, and there is nothing I desire more than to end this race in life in optimum condition. Please, Lord, show me where I need to grow spiritually and help me to take responsibility for my own spiritual growth. Bring to my mind those goals that I need to have and help me to place value in growing with you. One day at a time, Lord, with your help, I will draw closer to finishing this race with my eye on the prize. Eternal life with you will be my greatest reward."
Questions for thought:

Have my goals promoted recent spiritual growth?
Do I take responsibility for my own spiritual growth?
Are my life goals in unity with God's goals for my life?
Copyright © 2008-2015 Melinda Henderson
Read more about the writer: Melinda Henderson
---
Reader Comments...
2011-09-17 11:24:39
"This is perfect that we can take the credit loans and it opens up completely new possibilities. "
- Queen
---
Post Your Comment...
---