Teachable Moments
No matter how old your children are, there are many opportunities to teach. Learning opportunities exist everywhere. Life itself is a journey of learning. Here are some ways that you can capture the learning moments with your children.
1-Integrate Learning with Life.
I have found that everyday activities provide opportunities for meaningful and interesting conversations with my children that prove to build bonds and common understanding about the world around us and beyond. When I take my young children on a walk, for instance, we discuss the various types of trees that we see, like the oak, pine, magnolia, dogwood and birch. Identifying the differences in things promotes evaluation and analysis skills even with little ones. When I walk with my older children, I've talk about the various styles of homes, like the ranch, colonial, traditional, Cape Cod, or the different cloud formations and seasonal changes, or the various types of flowers. There are always opportunities to learn more about everything around you.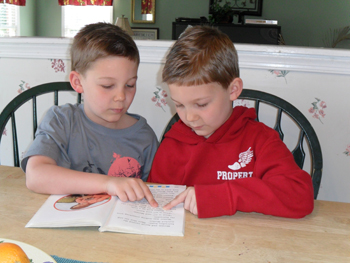 When we cook together as a family, I discuss tips with my older children that I've discovered that might be helpful to them as they become more independent. I show them what works and why. We read nutrition labels and discuss food groups, as well as what textures, colors and nutritional combinations work for planning family meals and social gatherings.
I intentionally allow my children to hear me have conversations over the phone, so that they will learn how to interact with others socially and professionally. I allow them to hear me pray with someone, so they learn how to minister spiritual encouragement to others. When I have social events at my home, I teach the children weeks in advance how to plan, prepare and execute while keeping in mind how to bless and serve the people who will attend. We learn about music and history, politics, and technology. We discuss vocabulary, literature, and philosophy. We ask questions and we discover the answers. We search for in-depth scriptural applications to most everything.
I encourage my children by example to learn something from every conversation they have with someone. I tell them, there is always something you can learn from everyone you talk to. Consequently, our children are fluid conversationalists and enjoy gaining knowledge from others on a variety of topics. Learning is a life style. We promote life-long learning.
2 - Teach Discernment as well as Knowledge.
It's important for children to have a keen awareness to the spiritual connectedness of an individual, the difference in wrong and right, and the moral climate of their surroundings. As parents, we can take the teachable moments that are presented to us and maximize them for our children's well-being. When my children and I witness someone who is dishonest, unkind, or who displays inappropriate behaviors or attitudes, we discuss inconsistent character qualities and what we can learn from that. Even the youngest of children can rightly answer, "Drew did not give anyone else a turn. Was that a good thing that Drew did?" Immediately, they say to me, "No, Mommy, that wasn't nice, he shouldn't do that."
When the older children meet someone of reputable character, they are being trained to detect whether the person is a con artist, or has a deceiving spirit and if so, they are learning how not to put their trust there. When they witness beliefs and choices being made by others that do not line up with scripture, they are challenged to learn what God's Word says about it and live what is true. In Thessalonians, the scriptures say for us to "test all things and hold on to what is good." This requires more than just knowledge, but trained spiritual discernment.
3 - Integrate Faith with Learning.
When our oldest son was just beginning his elementary years, he was in a Christian school called Stonebridge School that was founded on Biblical Principles. Their philosophy to education is called the Principle Approach. I had never heard of this concept, but it has forever impacted how I view education. In my earlier experiences, the Bible classes and training that a child would receive, whether at school, home or church, were separate from their English, Math, Science and History classes. Subjects were segregated. But in the Principle Approach, the Bible was integrated into all subjects.
I didn't realize how the Bible and our Christian faith could be integrated until they explained. They told us the reason we learn English and to be masters of our language is because one of the primary ways God speaks to His people is through His written Word. Likewise we have opportunities through oratory and through writing to impact our culture and to share the gospel of Jesus Christ.
Using the Principle Approach, the children are asked at the beginning of math class, "Why do we study math?" to which most students have no answer. The educators then boldly declare that God is a God of numbers and that numbers and patterns and systems matter to him. They use the Bible as an illustration in math class to show that God had a reason for the 12 tribes of Judah, the 12 disciples, the 7 horns before the Ark, the marching 7 times on the 7th day in Jericho, and so on. In addition, we focus on science because God established the universe and put the planets in place. He designed mankind and knitted his form together. He created all the species of every kind of living creature. And as for History, it's all "HIS-STORY." We are just on the timeline of history accomplishing God's purpose and we have a unique role to play that only we can do during our time in history which is our lifespan. There were those who have come before us and those who will come after us. Talk about perspective!! Amazing!!
It was fascinating to me and revolutionized how I teach my children every day. The Bible is no longer something separate added to the curriculum, but the focal point of the curriculum.
Rewards will follow if you maximize the Teachable Moments.
Copyright © 2008-2015 Debbie Reynolds Harper
Read more about the writer: Debbie Reynolds Harper
---
Post Your Comment...
---