Royal Fashion
I was intrigued by the extreme fashion statements that were made recently at the Buckingham Palace in London. I was thinking to myself, "How do they get away with that? Americans just aren't that courageous or formal with their attire. But it's so cool!"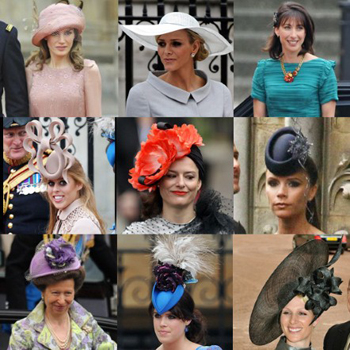 It was a royal wedding of the century and it was done is style. The British Royal Family demonstrated once more its exquisite elegance and sophistication with its choices of attire. The now Catherine Duchess of Cambridge married Prince William on Friday, April 29, 2011. Many compared the bride, Kate Middleton, to the popularity of Princess Diana, noting that they both had an interest in the people but that Kate seemed more at ease and sure of herself and walked with a graceful confident air. No doubt, they will both be British Royal Icons.
Both the bride and her sister, Pippa, the maid of honor, looked lovely and beautiful. It was a sight to see all the fashionable outfits that were presented at the royal wedding. Celebrities and royal guests wore mainly short hem ensembles with lots of color and extravagant hats. The colors that kept showing up were blush, color-blocking and navy blue. Monochromatic ensembles with matching clutch, hat and pumps were the predominate items. Suits won over dresses. Shoes were mostly pumps in the color of the outfit or nude. The most appropriate leg color was nude hosiery.
According to fashion experts, the majority of the wedding guests chose very stylish outfits that were perfect for the occasion. They emanated elegance and poise and were avant-garde in their selections. Although some headpieces were overly extravagant, most were tastefully done and completed the sophisticated look. Those guests who radiated simplicity and refinement were certainly in vogue. Flower applications were popular. Simple, elegant and chic was the goal. A few royals nailed the metallic trend with their stylish ensembles, making great and innovative fashion statements.
Although some were dressing to impress in all the wrong ways, most of the fashion was polished and modern and they wore the monochromatic fashion trend to perfection. According to fashion expert, Maria Hernandez, "Good or bad, hit or miss, do or don't, these celebrity and royal guests enjoyed this most anticipated wedding of the year and definitely made fashion history with their ensembles."
Sources: http://fashion.telegraph.co.uk/hot-topics/121/kate-middletons-royal-wedding.html
http://www.ndsmcobserver.com/scene/royal-wedding-fashion-do-s-and-don-ts-1.2215053
Copyright © 2008-2015 Debbie Reynolds Harper
Read more about the writer: Debbie Reynolds Harper
---
Post Your Comment...
---