The Beauty of Ironstone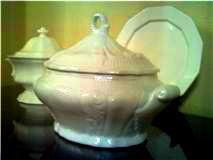 Ironstone china was first introduced by a potter by the name of Charles James Mason in 1813 in Staffordshire, England. Easily recognizable, Ironstone is most commonly white in color. Ironstone was created as an alternative to its more delicate counterpart porcelain china.
Because of its properties that consist of high clay content, Ironstone's strength and durability made it conducive to everyday use. Therefore, chipped, and worn Ironstone is perfectly acceptable and expected among collectors.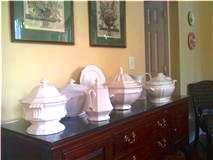 By the early 1940's, Ironstone was beginning to be exported to America. In its earlier time, fruits, flowers and vines were typically embossed onto a piece. Its introduction to America gave way to a preference for a simpler style, some even very plain, which is the most common to be found among antique shops and dealers.
It was about six years ago that I purchased my first piece of Ironstone Ware, and since then have acquired a nice collection with a particular passion for soup tureens. Pitchers, bowls and tureens can serve as containers for flowers, fruits, shells or a number of things.
I personally prefer the uncompromised form of each piece that allows its individuality and beauty to be fully appreciated. I also move my collection around to enjoy it in different settings. Its impact is stunning and when I look over my collection, I wonder, where and when I will find that next perfect piece of Ironstone.
Copyright © 2008-2015 Kristy Beelendorf
Read more about the writer: Kristy Beelendorf
---
Post Your Comment...
---