Young Men, Pursue Manhood!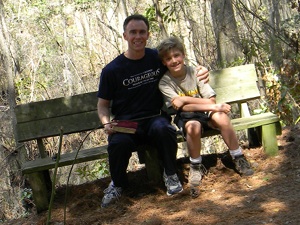 Ladies, if you are abundantly blessed with boys, please grow them up to value and prioritize being a MAN, getting married, and seeing biblical fatherhood as their highest calling.
The other day, I had a talk with my wonderful son Stephen about what he sensed God wanted him to do with his life in furthering God's Kingdom. Without hesitation, he answered, "I want to be a husband, a father to ten boys, and teach history." Notice the order in his mind . . . to be a husband, father, and then have a career.
Now, do not get me wrong. Brad and I highly encourage college education for our children. However, I'll be so thrilled for the Christian young lady who will be blessed to marry my son who already desires to be a husband and father. Yet, what about my six daughters? Where will the Christian "20-somethings" be when my daughters are ripe and ready for marriage?
Statistics can tell you where they are. They are playing video games, social networking, watching TV and TiVo to record the episodes they missed while playing their video games. According to the Kaiser Family Foundation study, the average teenager in the United States spends more than seven and a half hours a day consuming media. That's 53 hours a week! That's a full-time job!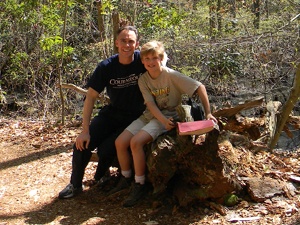 So, where are the young men who are preparing themselves for the joys and challenges of marriage and fatherhood? They are from Christian homes—in your house and mine. You and I may not be able to change the culture of our nation, but we can change it in our own families. Moms and Dad, please help your sons put away these meaningless hours of time-robbing devices and PURSUE MANHOOD!
If God has blessed you with sons, do whatever it takes to get them in a position to desire biblical marriage and fatherhood and to keep their minds pure. Many of us with an abundance of daughters are counting on you to train them for this cause. Please do not waste our daughters' most fertile years because the church's sons refuse to grow up. Turn off the video screen, young men, and pursue what will last for eternity.
May our sons experience the blessing of our grandchildren saying to THEM, "Happy Father's Day!"
A couple notes:
First, I want to thank Mark Fox for his inspiration in the column he recently wrote entitled, "Where have all the men gone?"
Second, recently my husband took our son Stephen out for a special day called Gentleman's Day . . . it was a wonderful experience, as he explained to Stephen that soon in his life he would be experiencing the changes God does to make him physically a man. He then challenged Stephen to be a man in every other way.
Finally, there is a wonderful movie coming out on September 30 called Courageous. Go to www.courageousthemovie.com to watch the trailer and find out more information . . . please spread the word!
Copyright © 2008-2015 Alyson Shedd
Read more about the writer: Alyson Shedd
---
Post Your Comment...
---