< Back to Kitchen Keeper Recipes
Strawberry Shortcake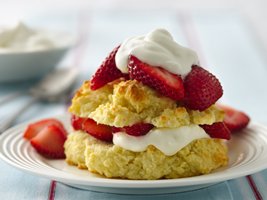 This is the time of year for strawberry picking! That is one of our family's favorite things to do! But what are strawberries, without at least a couple opportunities to enjoy strawberry shortcake? You can use angel food cake or pound cake. This one is homemade using Bisquick!
Ingredients:
4 Cups sliced fresh strawberries
½ Cup sugar
2 1/3 Cups Original Bisquick mix
2/3 Cup milk
3 Tbsp sugar
3 Tbsp butter or margarine, melted
1 Container (8oz) frozen whipped topping, thawed
Directions:
Mix strawberries and ½ cup sugar, set aside.
Heat oven to 425 degrees.
Stir Bisquick mix, milk, 3 Tbsp sugar and butter until soft dough forms.
Drop by 6 spoonfuls onto ungreased cookie sheet.
Bake 10-12 minutes or until golden brown.
Split warm shortcakes, fill and top with strawberries and whipped topping. Makes 6 shortcakes
Copyright © 2008-2015 Debbie Reynolds Harper
Read more about the writer: Debbie Reynolds Harper
---
Post Your Comment...
---