Godly Man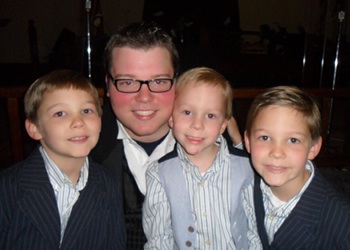 It was such a funny motherhood moment the other day when one of our young sons, Grayson, was troubled about his younger brother, Galen's behavior.
Seven-year-old Grayson came to me in the living room with a very concerned look on his face. He began to tell me that his younger five-year-old brother was not being kind while playing with the neighborhood children outside. He told me that Galen was not being nice and then he said with utmost concern and almost a tone of condemnation, "Mom, Galen is just NOT a Godly man!"
I raised my eyebrows with sincere interest in his claim and did not respond immediately, but smiled inside. The look on his face and sincerity in his voice was priceless. Under my breath, I said, "Oh Lord, how do I handle this one?" I didn't want to discredit his keen perception of right and wrong; after all, that is what I try to point out to them on a regular basis, but somehow I needed to bring mercy into the picture as well.
I then began to calmly validate his concerns and tried to affirm that it is truly important to learn and grow up to be a Godly man, like we have stressed both to them and to our older sons. I told him it's good for him to recognize things that do not display Godly character.
Then I also tried to remind him that Galen is only five and still has much to learn. I explained that we must be careful not to be judgmental or self-righteous. I told him that God grants grace and mercy to us even when we are very undeserving. We must do this for others as well.
Although I appreciated the standard of righteousness that Grayson was beginning to develop with his discernment for what was right and wrong, I wanted him also to understand and demonstrate the marvelous grace of God as well.
It was an unforgettable motherhood moment and one that I will always keep inside my heart!
Parenting is a precious journey. It's God's design for us to enjoy the motherhood moments that come every day and to teach with love, gentleness and consistency.
Copyright © 2008-2015 Debbie Reynolds Harper
Read more about the writer: Debbie Reynolds Harper
---
Post Your Comment...
---