Red Beans and Rice Family Tradition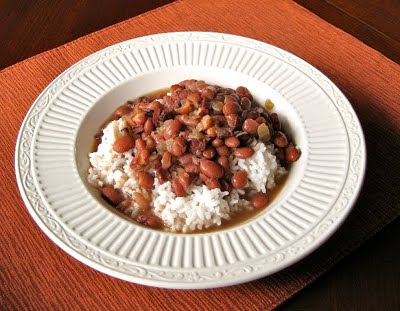 This recipe was passed down from my Mamah and is a family favorite! This cajun-inspired recipe from the French-speaking areas of New Orleans and surrounding regions of Lousiana and Mississippi has been considered a family tradition for us.
Whenever any of the family members would come to see Mamah on various occasions, the families who were traveling in for a visit from out of town would be served this family favorite upon their arrival. It's flavorful and welcoming and stays warm in the pot simmering until ready to serve. It's also nutricious and a great source of protein--since rice and beans together make a complete protein.
My mom has also carried on the tradition, and I suppose my sisters and I will as well.
Ingredients:
1 ½ Lbs. Ground beef
1 bag Light Red Beans
1 Onion
1 Bell Pepper
2 Garlic Bulbs Rice
Directions:
Night before put dry beans in bowl. Add enough water to cover beans and leave to soak over night.
Day of, rinse beans, place in slow cooker, cover with water.
Cut onion and bell pepper in large pieces and add to bean.
Peel garlic and add garlic and salt (approximately 2 tsp) to beans.
You can cook this on the stove top too, slow cook 5 to 6 hours.
Brown ground beef and add to beans towards the last hour.
Add salt and pepper to taste.
Cook rice separately and serve beans over a bowl of rice.
If you don't have a rice cooker, GET ONE! They are a big time saver.
Copyright © 2008-2015 Melinda Henderson
Read more about the writer: Melinda Henderson
---
Post Your Comment...
---