< Back to Kitchen Keeper Recipes
Chicken Spaghetti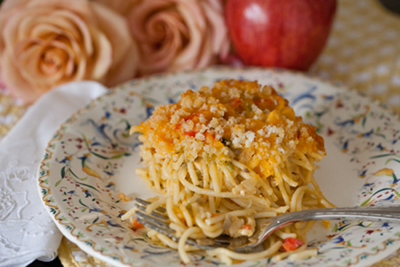 Do you want a different but wonderful new recipe to try? Well, this just might do the trick. This dish is very tasty and will make your family happy. Enjoy!
Ingredients:
1 can Ro-Tel tomatoes
1 Large boiled chicken, deboned
1 Bell pepper
2 Onions
1 stick Butter
2 (7oz) pkg. Vermicelli spaghetti
1 lb. Velveeta Chesse
1 can Mushrooms copped
1 T. Worcestershire sauce
3 cloves Fresh garlic
Directions:
Boil chicken and debone (saving broth).
Saute onions, pepper, garlic, and mushrooms in butter.
Boil spaghetti in broth.
Drain noodles and return to pot.
Stir in sauteed vegetables, chicken and cheese.
Turn burner off but leave over heat for cheese to melt.
Stir in Ro-Tel tomatoes.
Good to eat at this point but you can also bake in casserole dish at 350 degrees for 12 to 15 minutes.
Copyright © 2008-2015 Melinda Henderson
Read more about the writer: Melinda Henderson
---
Post Your Comment...
---