Always Have a Shadow With You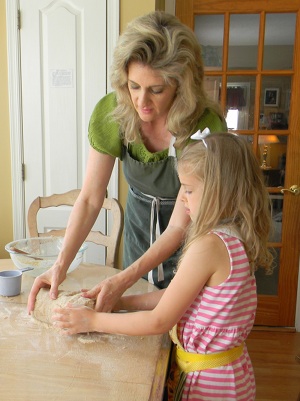 Years ago in our earlier stages of parenting, Brad and I listened to a life-changing parenting teaching by Jonathan Lindvall. It was an old, yet tried and true no-nonsense approach to parenting. So old, by the way, that it was only available on cassette tapes (remember those!), and we had to purchase a battery-operated tape player so we could listen to these great teachings in the car!
The key principle was simply this: Make sure your children shadow you in all your menial tasks as you go about your day. Of course, this is at the heart of a homeschooling family . . . walking out Deuteronomy 6:7 (NKJV)—"and shall talk of them when you sit in your house, when you walk by the way, when you lie down, and when you rise up."
This is what "shadowing" looks like:
When you go to Wal-Mart or the fabric store, take one of the children along with you to learn how to shop and to capture key discipleship moments in the car . . . my children like treats at Dairy Queen afterwards!
When you go out to pull weeds or plant flowers, make sure one (or more) of the children shadows you so they can learn alongside you.
Have one or more children join you when you're doing routine tasks around the house . . . like cleaning toilets, dusting furniture, cleaning windows, making bread, chopping salad, feeding the dog, setting the table for dinner, plunging a clogged sink, etc.
The list can go on and on, but this is precisely what Deuteronomy 6 entails. Some of the greatest discipleship moments occur when that particular child is "shadowing me," and I can address their needs in a relaxed "going about our day" kind of way.
Just the other day, my husband was putting up an extra shelf for clothing in our master closet. (With eight children, some of the children's clothing now resides in our closet!) He admitted he was in somewhat of a grumpy mood, not wanting to do house projects all afternoon when his sermon wasn't quite ready for Sunday. (Yes, pastors live normal lives, too!) He felt the Lord telling him to call our son, Stephen, upstairs to "shadow" him. It turned out to be a wonderful one-on-one time with dad and son putting a shelf up together. They spoke about the scriptures together, and Stephen actually seemed to be better wired for house projects than his daddy! Isn't God good? Where even Mom and Dad are weak, He gives us children who are strong!
So today, before you run an errand or are simply folding laundry, call one of your children to join you (a.k.a. "shadow you") and be amazed at what the Lord may do in those few minutes together.
Copyright © 2008-2015 Alyson Shedd
Read more about the writer: Alyson Shedd
---
Reader Comments...
2011-07-01 08:13:56
"Oh Alyson! Thank you for this reminder. The menial tasks are so very important to the life of a family and to use them as teachable and scriptural moments is precious. I will remember to not be frustrated by my shadows, but blessed that they are learning how to nurture a home and a family! Blessings to you!"
- samantha
---
Post Your Comment...
---