My Friend: The Flat Iron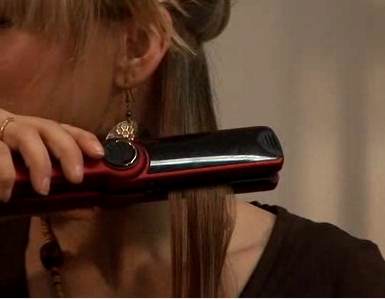 One of the most amazing hair styling tools that I have discovered is the flat iron. I have only been using the flat iron to style my hair for about a year, but I frankly don't know what I did before that!
It has become my friend!! I used to always have to blow my hair carefully to maintain order and style, but now, even when my hair dries by itself, I can bring a smooth, managed look to my locks in just seconds.
The flat iron heats up quickly and has a temperature control which protects from burning your hair. You can clip up the top section of your hair and smooth the bottom layers first, then smooth the top layers separately.
I made a mistake the first time and bought a very inexpensive one from a drug store and it broke within three months. The next time, we did it right. My husband arranged with my hair stylist to order a professional flat iron and gave it to me for Christmas. It came with a travel size flat iron that was given as a gift to my daughter. She loves it too! It was much more expensive, but it has been durable and reliable. And I love the results; it's been worth it!
If you have wavy hair like mine that tends to wave in the wrong direction, you'll love trying a flat iron! And it just might become your friend too!
Copyright © 2008-2015 Debbie Reynolds Harper
Read more about the writer: Debbie Reynolds Harper
---
Post Your Comment...
---