At the Name of Jesus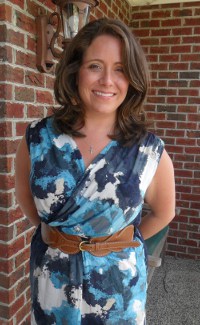 As many women know, the indulgence of a day at the nail salon can be rejuvenating. But when a family is on a budget, manis and pedis become a luxury afforded only on special occasions. Such is the case in our home. This is quite all right for me because the 'do it yourself' pedicure has become a sweet bonding experience for my daughter, Caroline and me. Caroline is three and as girlie-girl as one can imagine. So, we take to the sun porch with files and polish in hand. It's one of our favorite mother/daughter activities. And while I love the excitement in her big blue eyes as she picks out her favorite shade of pink, I often find myself wishing that I was the one picking out colors-not on the sun porch but in a salon-with a REAL pedicurist ready to pamper my weary toes.
Then I met Yvonne.
One recent Saturday night, a night our church was holding a prayer concert, my family and I accepted a dinner invitation instead. Although I was enjoying the evening with dear friends, I felt a bit guilty for not being a church, kind of like I was missing out on something spectacular. God showed me, though, that He wasn't unhappy with our absence from the prayer concert. He had different plans; He always does.
We packed up the kids and headed home around 10 p.m. A late night for the two little ones who were well past their bedtime. We were all ready to be home. Then I saw her. Walking alone on a dark road, a young, twenty-ish Vietnamese woman. She was pulling a suitcase bigger than her slight frame and atop her luggage sat a white garbage bag. The airport is in the next city over, and there isn't a bus station for miles. "Why is this young woman alone and carrying such a load?", I thought.
"Pull over, Rick, we have to help that girl."
My husband has a servant's heart ; helping comes naturally to him. That night, though, he had to overcome cautiousness and concerns for his family's safety, but he obeyed God. We did a u-turn. So as not to scare the young woman we pulled out of traffic far enough from her that she wouldn't feel threatened. I got out of the car and approached her.
"Are you safe? Do you need help?" Only a slight nod told me she was fine.
"Can I help you? Do you speak English?"
"No," she responded.
"Okay. You are sure you are safe?"
"Yes."
"I know Jesus. I am a Christian. Can I help you?".
"Yes!", she replied. "I need a ride to my job. My boss said I can sleep in the shop."
"God is our refuge and strength , a very present help in trouble." Psalms 46:1 (Revised Standard Version)
She then asked for more help. She had left bags hidden in the bushes of her apartment complex. Clearly, her load was too great to carry in one trip. Back we went.
When we arrived at her apartment, her roommate stood looking bewildered in the parking lot. She wasn't happy that we were helping Yvonne and wanted us to leave without her. Hoping I could diffuse the situation, I approached the roommate and told her that Yvonne was safe and that we would be helping her. Still, the roommate was still not interested in what we were doing or what we had to say.
But the Holy Spirit intervened.
"I know Jesus. I am a Christian. Yvonne is safe with us." And just like that, the roommate said her goodbyes. Again, the mere mention of Jesus and ears were opened, hearts changed.
"Okay. She can go."
Back in the car en route to the 'shop' I leant forward between the two front seats.
"Yvonne, do you know Jesus?" A nod from Yvonne.
"You know Buddha, don't you?"
"Yes!".
"Yvonne, Jesus will keep you safe."
As we pulled up beside the backdoor of the nail salon, Yvonne reached into her purse and pulled out a business card. "Samantha, anytime you want mani-pedi you come to me, no charge."
I know God smiled...
"Thank you Yvonne! God bless YOU!".
Thank you, Lord!
I still haven't found my way back to the salon-but my new heart's desire isn't for a professional pedicure-but for Yvonne to find Jesus. And I know she will, he is waiting for her!
"I saw the Lord always before me, for he is at my right hand that I may not be shaken; therefore my heart was glad, and my tongue rejoiced; moreover my flesh will dwell in hope. " Acts 2:25-26 (Revised Standard Version)
Copyright © 2008-2015 Samantha Ewing
Read more about the writer: Samantha Ewing
---
Reader Comments...
2011-07-04 03:50:08
"Now I understand what a gift (one of the gifts) the Lord has blessed you with...Praise the Lord... Very well done, creative words, beautiful style, very clear and direct...Excellent...love it... Thanks for being obedient...Blessings. Mack "
- Mack
---
Post Your Comment...
---