Manners at Mealtime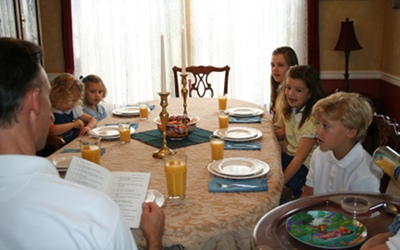 It is said that mealtime is to be a time of thankful eating and warm sharing and learning—as well as a time of laughter and storytelling and I would agree.
With busy schedules and demands of life, it is sometimes difficult, but still important, to share mealtime together with family or friends.
Of course every meal cannot be blissful. As with other elements of child training, good table manners require instruction, correction, and consistent practice.
When babies join the family at mealtime, they may cry. Toddlers may cry because you will not allow them to bang their spoons. Moments must be taken to instruct a child how to hold his spoon, and how to use it instead of his fingers. Every meal is a practice session for all the little points of good table manners.
Interestingly, the challenge parents face with their children in this area often reveals other issues surrounding their parental authority in their home or a child's rebellion against it. If those patterns of respect, honor, consideration for others and obedience to parental guidelines are established young, other problems later will be less difficult to harness.
All children should learn the following basic dining courtesies:
The table is not an appropriate place for boisterous talk and play. Children should not rudely interrupt adult conversation or act silly.
Napkins rather than clothing should be used to wipe hands. Napkins may be spread on the lap when eating begins.
Elbows and arms should not rest on the table. Children tend to lie or lean on the table with their heads near their plates. They should learn to sit up straight. One arm should be kept in the lap and the other used to raise the fork and cup to the mouth.
Each child should wait to be served or until food is passed to him. Also, he should be instructed to select the top, the nearest, or the smallest serving. The piece first touched should be taken without sorting through the food. When only one serving remains, the child should kindly ask their father and mother, then others, if they would like to have it, before he takes it.
Reaching across the table or in front of another is rude. The desired item should be requested courteously, "May I please have the bread?" or "Would you please pass the butter," and received with a "Thank you." Serving dishes should be passed around-not across-the table. Other dishes should follow in the same direction, not the opposite direction.
Chewing with the mouth open, smacking the lips, taking too large bites, slurping drinks, and speaking with food in the mouth are bad habits that should be corrected. Toddlers should not be allowed to play with food or smear it on the high chair tray, the table, or themselves.
It is ungrateful and discourteous to pick through food, to complain about it, or to refuse what is served. Children can learn to eat the food that is served without whining. God must always be thanked for His provision and the cook shown appreciation for preparing the meal. Children should thank their mothers and fathers before leaving the table-a courtesy that should not be forgotten when eating in other homes.
Children should ask to be excused from the table at the end of the meal. They should also request permission if they need to leave the table during the meal. Toddlers and young children should use the toilet and wash their hands before eating. There is no need for children to get up and down from the table. They should stay until the end of the meal, through the time of family fellowship, and then be excused to return to their play.
Courtesy at meals is not something reserved for diplomats and presidents. It is another aspect of self-government that shows kindness and respect to others.
Note: For more information, you may want to consider the book, "The Little Book of Christian Character & Manners," by William & Colleen Dedrick.
Copyright © 2008-2015 Debbie Reynolds Harper
Read more about the writer: Debbie Reynolds Harper
---
Post Your Comment...
---