Leap of Faith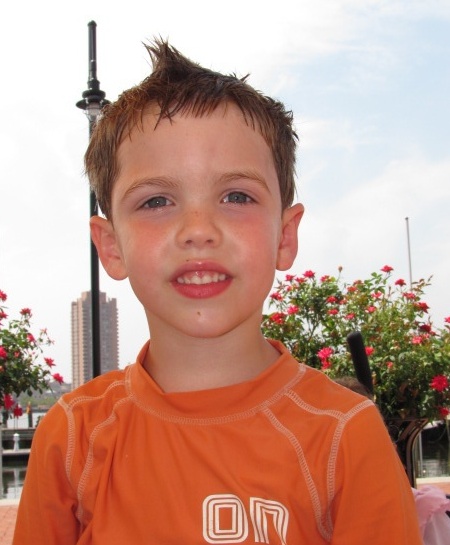 I trust God.
I trust God, but not like Max. My son Max has the most amazing faith. His faith, in the short six years of his life has brought me closer to the Lord. Everything Max does is done with God. He gives Him thanksgiving. He seeks forgiveness. Max has faith far greater than anyone I know. He depends on the Lord in all situations; big or small.
Recently Max and I were at a friend's pool. Until last year, when we found the World's greatest swim floats, Max was content to splash his feet in the water from the edge of the pool. He was very scared of the water. He is a cautious person and does not like to put himself in harm's way. Quite remarkable for a six year old boy. He is very discerning when faced with a physical challenge.
So, we are at the pool of a friend who is also a classmate of Max's. I have come to realize that no matter how cautious your rather timid child is, when faced with the challenge in front of their peers, they will rise to the occasion, no matter how fearful they are. Such was the case at the pool.
Max desperately wanted to join his friend in jumping off the diving board. I watched as he peeked over the edge surveying the water below. He crouched down close to the board and stared at his reflection. Contemplating his next move, I could tell by his body language that he was determined to jump off, he just had to figure out how, how to be like his friend.
"Come on buddy, you can do it!" I encouraged from the side.
"I'm scared, but I really want to." He replied.
"Ask Jesus to help you."
"Now faith is being sure of what we hope for and certain of what we do not see." Hebrews 11:1 NIV
He walked to the other end of the board. Again in a crouched position, but this time instead of looking at his reflection, his eyes were closed and his hands were clasped in prayer. I could only see the movement of his head. A nod. A shake. Then it happened! He stood up. Hurried to the end of the board and made his final declaration...
"In Jesus' name AMEN!"
SPLASH! He did it! He took a leap of faith, all the while holding the hand of Jesus. He depends on God so much that even a jump off the diving board requires consultation. WOW!
There are moments in your child's life that you want to capture forever. Moments that take your breath away. Moments that only God could create. The diving board was one of those moments for me.
I am always awed by Max's constant, strong faith. I am encouraged by his utter dependence on the Lord. I am humbled by his unwavering trust in our Savior.
We are called to have faith like a child. Watch your children, learn from them. You will be amazed at how your relationship with them and God grows. He blesses us with these little treasures that we think are here for us to teach, but frankly, I believe that it is the other way around.
May your life be filled with teachable moments. May you savor the lessons you learn from your own sweet, little treasure.
Copyright © 2008-2015 Samantha Ewing
Read more about the writer: Samantha Ewing
---
Reader Comments...
2011-07-04 08:56:54
"My favorite line in this piece is "Ask Jesus to help you." Pointing our children to Jesus is key to building their faith. You knew to prompt him to pray ~ now the trick is to do the same when you face problems of your own."
- Tanya
---
Post Your Comment...
---