< Back to Kitchen Keeper Recipes
Chicken Divan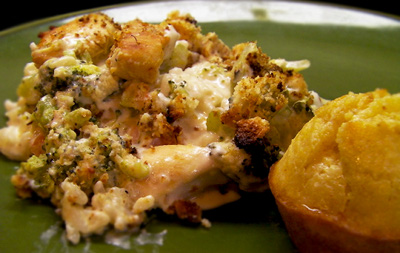 For me, becoming a wife was an exciting time in life. Sharing my day with the one I love. Lovingly tending to the needs of my husband with great effort. Preparing meals that make him feel like he has married a culinary maven…then he requests his favorite dish, the one his mother used to prepare. The dish that evokes that "ahhh, I'm home from a hard day; all is right with the world" feeling. The dish that after my first try I promised never to make again. That dish was…Chicken Divan. I cringed when he would request that I make it for dinner, I had tried and missed the mark each time.
How blessed I was the day I stumbled upon my sweet mother-in-law's original recipe. Thank you Jesus! I made it for my husband the day he graduated from Regent University. It was every bit as delicious as he remembered!
Ingredients:
1 Bag frozen broccoli, cooked, drained and chopped
1-1 1/2 lbs of chicken breast, cooked and chopped
2 cans Cream of Chicken Soup
1 1/2 cups Miracle Whip
3 teaspoons lemon juice
1- 1 1/2 teaspoons of curry
Salt and pepper to taste
2 cups of shredded cheddar cheese
Directions:
Cover the bottom of a casserole dish (9x12) with broccoli.
Place chicken over broccoli.
Combine soup, Miracle Whip, lemon juice, salt and pepper, and curry.
Pour the mixture over the chicken and broccoli.
Sprinkle cheese on top.
Bake at 350 for 35 minutes, covered.
Refrigerate.
Prior to serving, bake (covered) at 350 for 40 minutes or until the sauce is bubbly. Remove cover, bake for an additional 5 minutes. Serve with fruit salad and baked potatoes…or twice baked if you really want to be like my sweet mother -in-law
Copyright © 2008-2015 Samantha Ewing
Read more about the writer: Samantha Ewing
---
Post Your Comment...
---