The Blessing Ceremony of Our Daughter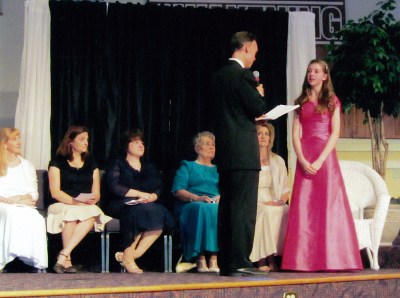 This past May, my husband Brad and I had the delightful privilege of giving our first-born daughter, Olivia, a Blessing Ceremony. You may be wondering what a "Blessing Ceremony" actually is. We did, too! When Olivia had turned thirteen (one year earlier), we were becoming weary at the constant onslaught of comments (unfortunately primarily from Christians and many Christian books) like:
"Oh no, the turbulent teenage years are here!"
"Just hang on until it's over!"
"Don't be surprised if she exerts a little rebellion!"
"Don't worry . . . it's natural for her to distance herself during this time, but she'll come back around."
I felt dread coming upon me instead of hope and excitement. We have always had a close relationship with our daughter, so these comments left me puzzled and frustrated.
We plugged our ears from these worldly comments; and as we searched the Scriptures, we found that God's Word gave us a wealth of hope for the upcoming years.
First, the word "teenager" and "adolescent" are foreign to Scripture. Once a Hebrew boy or girl turned twelve, they were ushered into young adulthood with a beautiful ceremony that later came to be called a Bar Mitzvah (for a boy) or a Bat Mitzvah (for a girl).
We wanted to do a simple, elegant ceremony to usher our daughter into this wonderful new phase of her life. We first put together a PowerPoint presentation of pictures from Olivia's childhood—birth to present. My husband spoke powerful words of affirmation and blessing over Olivia in front of our family and friends, so that she would always look back on May 21, 2011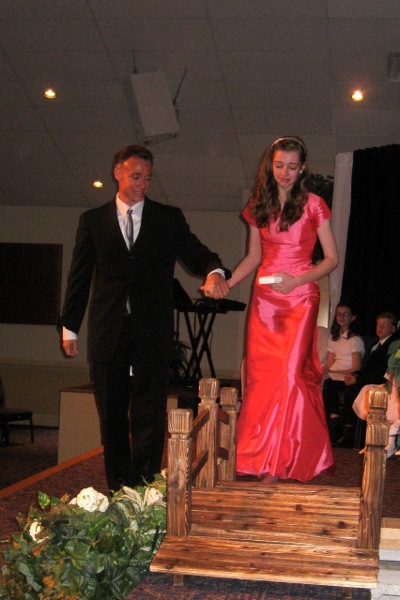 as the day we declared her a young adult . . . and that the word "teenager" and all its implications would never be spoken over her in our home. Probably the most powerful moment, however, was the moment when Brad escorted Olivia over the bridge from childhood to young adulthood . . . there wasn't a dry eye in the place!!
Do you know when you became an adult? At 16, when you could drive? At 18, when you could vote? At 21, with more privileges given? When you graduated from college? When you got married? When you had your first baby? You see, the list could go on and on . . .
Just the other day, a friend said to me, "Well, it looks like you won't have to go through the heartache I get to look forward to." Ouch! But, my friend, you don't have to look forward to heartache and teenage rebellion.
You have beautiful treasures in your home called your children!! They were given to you by God for blessing and protection, and only you were given the privilege to call them forth to the destiny God has for them.
Our ceremony was simple, elegant, and the most wonderful day of Olivia's life (so far!). We hosted the event at our church, with simple decorations that we gathered from the Children's Pastor's storage closet! Our speakers were ladies that had known Olivia since birth, along with her Grandfather and Grandmother Shedd, two of her siblings, her daddy, and myself. Her siblings sang and played a special musical piece, and her dear friend Cailin led worship. She was given a special birthstone ring from us (you could give a purity ring at this event), and a pearl necklace from her grandparents (her middle name, Margaret, means "pearl"). We had a simple cake and punch reception afterwards.
Your son or daughter's Blessing Ceremony doesn't need to look like this—it just needs to look like you and your family! A few years ago, we went to a Blessing Ceremony that was held as a backyard BBQ! Her father prayed over her, with her siblings reading lovely poems and cards to her. She was so blessed!
Brad and I are passionate about these ceremonies. We would be honored to help you in any way we can to see the fulfillment of this life-changing ceremony happen in your family. (Feel free to contact us by leaving a comment below.) Your child will never be the same—his or her destiny will be affirmed, and your relationship with your child will be sealed with God's own blessing for the rest of your lives!
P.S. Here are some helpful resources:
Rite of Passage by Jim McBride
(http://www.amazon.com/Rite-Passage-Blessing-Jim-McBride/dp/0802458807/ref=sr_1_4?ie=UTF8&qid=1312918176&sr=8-4)
Copyright © 2008-2015 Alyson Shedd
Read more about the writer: Alyson Shedd
---
Reader Comments...
2012-12-31 14:20:44
"Alyson, I have read through almost all of your posts and I just wanted to say thank you! It's wonderful to have so many of my own feelings confirmed, especially about the word teenager! We may be visiting your church this summer when we move to the area! Blessings, Heather May"
- Heather
---
Post Your Comment...
---