More Than a Motorcycle
Marilyn Macklin, a friend of Dee Dee MacDonald's is guest-writing for us this month! We hope you enjoy her story as the wife of a motorcyclist!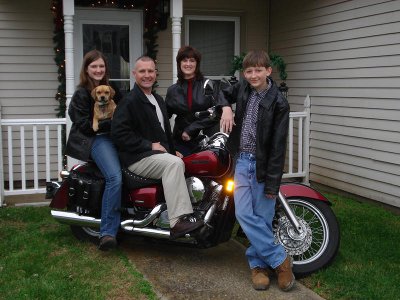 I ride with my husband… his passion became mine! Today he is a Navy chaplain but before that he was a civilian minister for 12 years. Harvey has been riding since he was a young boy and this is the fourth bike we've owned since we've been married. When we met, I was serving as a youth leader in my small church. I've been a Christian since I accepted Jesus as my Savior at five years old. My walk with Jesus Christ has been the most important relationship in my life; so I was very grateful when He led me to marry Harvey and get involved in full-time ministry.
We are currently stationed in Norfolk, Virginia and I am the office manager at our church. The bike is Harvey's main form of transportation as he commutes back and forth to the base everyday… saves on gas during these tough economic times. Not to mention it frees up a car for my newly licensed daughter to drive!
I don't drive a bike myself, but I love riding the Honda with Harvey. When we ride together it is one of the few times we are able to be alone without any distractions… no music, no kids talking, no crowds around… you get the picture. We wear headsets so we can talk to each other while we ride and we are able to have the best conversations.
We love the freedom we feel when we are out on the open road in the middle of God's creation. We usually ride back roads, not interstates. The fragrances we're able to enjoy are something that you miss altogether when driving in a car… the fresh cut hay, the jasmine in bloom, or the smell of the ocean.
I always thought those loud pipes on the Harley Davidsons were just for show, but I've learned that I was wrong. That loud noise is a safety precaution. Many cars are oblivious to bikes around them; they are distracted by their cell phones or radios, their schedules or Big Macs… especially on the interstates! When a biker feels like a driver is not aware of their presence, they rev up their engines until they see them look their way, so they know the driver is aware of their presence. That's why Harvey has Harley pipes on his Honda VTX1300.
There is also other safety equipment that smart riders utilize. You may think that leather is just for looks too, but that is also wrong. Leather is one of the strongest fabrics and goes a long way in protecting riders from injury in the case of a fall. Smart riders also wear boots, gloves, jackets, and full helmets. They make jackets that are protective yet also allow for good airflow so they can be worn even in the hot summer. There are also biker safety courses that can be taken… if riders are smart and cautious, and drive defensively, then there is no reason to be afraid to be out there enjoying the open road! So ladies… the next time your husband says he wants to get a bike… don't be too hasty in rejecting the idea! It might just be the couples activity you've been looking for!
Copyright © 2008-2015 DeeDee MacDonald
Read more about the writer: DeeDee MacDonald
---
Post Your Comment...
---