< Back to Kitchen Keeper Recipes
Homemade Tomato Soup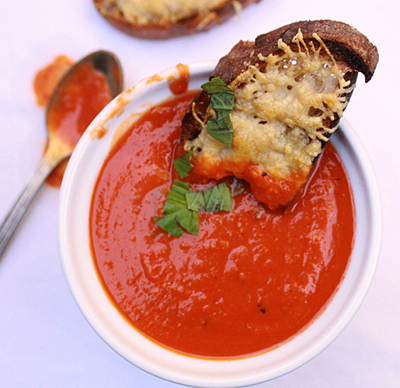 I used to love Campbell's Tomato Soup with grilled Colby Cheese Sandwiches growing up. I still do! But . . . here's a wonderful Homemade Tomato soup that is simple and healthy . . . and I still serve it with grilled cheese sandwiches! This is one of my daughter Ava's favorite meals!
Ingredients:
8-10 small Roma tomatoes, pureed in the food processor
4-6 carrots, chopped
2 onions, chopped
2-3 garlic cloves, chopped [Note: I don't do the chopping . . . I let my food processor do it for me!]
2 cans (46 oz each) tomato juice
2 T Chicken Broth powder (or chicken bouillon cubes)
2-3 T butter
Parsley, Basil, Pepper (1/2 t each)
Directions:
Sautee the carrots, onions, and garlic in butter in a large pot until the onions are clear.
Add pureed Roma tomatoes and seasonings.
Simmer for five minutes.
Pour in the two cans of tomato juice.
Bring to a boil, then simmer for 30 minutes.
Note: I will typically double this recipe, so I can freeze the other half for a busy day.
Copyright © 2008-2015 Alyson Shedd
Read more about the writer: Alyson Shedd
---
Post Your Comment...
---