My Little Tree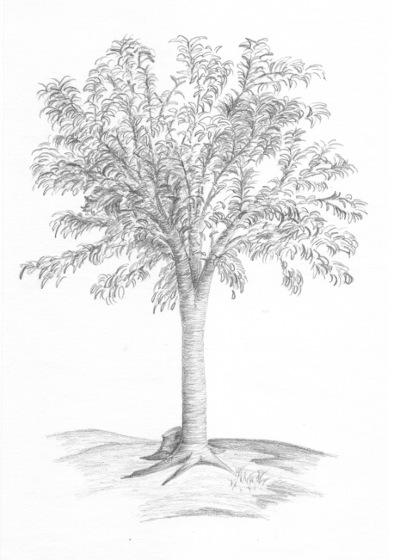 As a child, I loved to roam the acreage of my parents' home, collecting rocks, picking flowers, and exploring. During one of my walks I admired a strong sprout, so I dug it up and replanted it in the yard where I could see it, and I watered it each day as my own little plant. The weed grew to be a wild cherry tree – the kind of tree that sprouts numerous branches from its trunk and grows almost bush-like in its carefree wandering. I was so proud of it.
Over the next year, the tree took shape with two main trunks, and grew taller than me. I was delighted! However, my father warned that the tree would grow much straighter if he pruned it. I objected, but one spring morning he took the pruning sheers and lopped off one of the two trunks. The results looked so drastic and different that I cried, thinking my tree would surely die. Instead, the one trunk grew fatter and doubled its height the following year. Dad had been right, and I was now even more proud of my tree.
But, this species of wild cherry also attracted tent worms, a pest that eventually threatened the tree and other plants around it. Routinely my father cleaned webby nests from its branches to avoid the blight. After 20 years, long after I had left home, he finally cut the tree down, which had grown a fine thick trunk – just the perfect size to plane down into boards for a surprise project.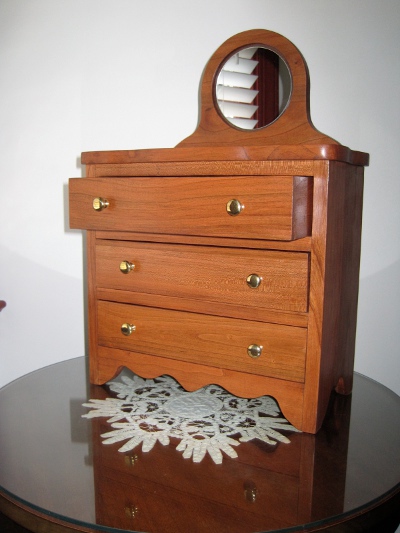 This summer, my father made a little doll chest for me out of that old wild cherry tree. It sits in a prominent place in my home, and I will tell my little story about it as long as I am able. We never know what our Heavenly Father is planning to produce from the fruits of pruning our lives for His will.
Caption (for the pencil drawing): My wild cherry tree, as illustrated by Julie Strohkorb for the poem "My Little Tree" featured in the book Poems to Ponder, written by my mother, Aleta Goodwyn Jenkins.
Caption (for the furniture photo): Doll Chest crafted by my father, Jerry Lewis Jenkins.
Copyright © 2008-2015 Julie Strohkorb
Read more about the writer: Julie Strohkorb
---
Reader Comments...
2011-09-06 17:36:55
"Dear Julie, what a wonderful story. I love Poems to Ponder, the two of you make a wonderful team. This is a very talented family. Love Ya, Jane Stanley "
- Jane
---
Post Your Comment...
---