Thank God for God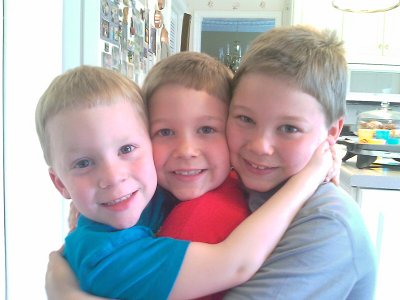 Recently when our seven-year-old son, Grayson, was sick, I took time to help him feel better. He had a high fever, so I gave him some children's Tylenol, put a cold washcloth on his head and kept refreshing it, fixed an ice pack to lower his body temperature, held him, prayed over him aloud, rubbed his forehead, massaged his muscles, and fed him some chicken noodle soup. I assured him that his fever would pass and that God would bring him comfort and peace. He felt encouraged that it wouldn't be much longer before he wouldn't be feeling so miserable.
He smiled and said, "I'm so glad God gave me you as a mom and that you know how to take care of your children when they are sick or hurt." Then he added, "I'm glad Nana had you as her daughter and showed you how to take care of and love your children." As I smiled at the sweet and genuine expressions of appreciation he was offering, I marveled at what he said next, "I'm so glad God is real, Mom! Because if God was not real, I would be very sad, but I'm thankful for God and that He's real!"
I thought it was interesting that although he offered thanks for me, somehow in his young, but still wise little mind, he knew he couldn't stop there, but would have to also thank my own mom, and then he couldn't stop there, but would desire to acknowledge the true source for all these blessings—God himself. So, to that, I smiled and said what my great-grandmother would always say, "Thank God for God!" We smiled together knowing that the trouble would soon pass.
Copyright © 2008-2015 Debbie Reynolds Harper
Read more about the writer: Debbie Reynolds Harper
---
Post Your Comment...
---