The Things Kids Say...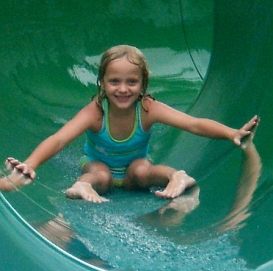 We had gone to the water park to enjoy our last family day before the kids started back to school. I was trying to be a good mom and play in the water with my kids (you know not just one of the ones who sits in the lounge chair).
Well, we were walking towards a slide and Olivia was trailing behind me and without hesitation said, ¨Mommy your buns are really big... without pause she quickly added ¨they just go boom, boom, boom¨ Well what could I say....I kindly smiled and softly said ¨I know Livie, Mommy is trying to work on that.¨
The week after she walks in and sees me putting on my control girdle and then proceeds to ask me, ¨why do big ladies wear that?¨ And without second thought you can probably guess it.....yes my response was, ¨so our buns don´t go boom, boom, boom!!¨
Can we all identify with that or what! Cheers to laughter.
Copyright © 2008-2015 Melinda Henderson
Read more about the writer: Melinda Henderson
---
Post Your Comment...
---