Halloween Embarrassment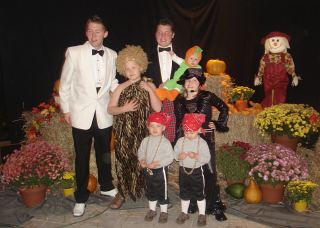 My son is fascinated with the decorations that are set out each year for Halloween. He loves to ask questions about everything he sees and will not stop until his curiosity is satisfied. In our family we choose to celebrate Harvest Day at our church instead of emphasizing the negative connotations associated with Halloween.
On one afternoon my son and I were out for an evening walk. As we turned the corner to head home we came upon a neighbor's house whose yard was filled with all the paraphernalia you can imagine. Even worse, the lady was in the yard. As she saw us approaching I began to feel a little sick. I knew my very curious four year old would have a few comments about his observations.
As I was talking with the neighbor, my son began tugging on my arm. He finally couldn't keep quiet any longer. "Mommy, look at all this Halloween stuff. Don't they love Jesus?" I could feel myself turning red.
Thankfully, my neighbor, a devout Catholic, never heard him. She just kept talking. I thought to myself, "Whew that was a close one." I quickly grabbed my son's hand and tried to make a quick getaway down our street, but it was too late. My neighbor sweetly smiled at my son and said, "Please come back on Halloween and get some candy." My son proudly piped up, "Oh no, we will not be back! We don't celebrate Halloween. We celebrate Harvest Day at our church. We love Jesus."
To this day, I still can't look at the woman quite the same.