Growing Pains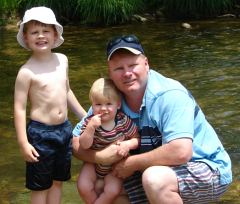 After baby #2 it has taken me awhile to pursue a fitness program for myself. So, in an effort to get myself back on track I've decided to take my two sons with me to the local YMCA a couple of mornings a week to exercise. The fourteen-month-old does great while my four-year-old has not been completely thrilled with the idea. I've bargained, threatened and rewarded him for going to the childwatch area so Mommy can have 45 minutes of uninterrupted exercise. Otherwise, the only exercise I get is a walk in the neighborhood in which we stop every five seconds to pick up a rock, an acorn, or a pine cone.
On one particular morning, my four-year-old refused to go into the childwatch area at the YMCA. After great frustration, I finally gave up and decided he could go on a walk with me. Of course deep down I was hoping a long, hot walk would discourage his future uncooperative attempts. I mean eat animal crackers and play with toys or walk and sweat in the hot sun. An easy lesson I thought. We had walked about a quarter of a mile when his little voiced piped up as he grabbed my hand and said, "Mommy, I like being with you. Can we talk?" I replied, "Absolutely." So, my four-year-old and I walked for two miles and talked about everything from dinosaurs to trains and he never once complained. He shared my water bottle and sweated right along beside me. As we finished up our walk he said, "Mommy can I say Thank you Lord." I said, "Sure." He said, "Thank you Lord that we are done with this walk."
Copyright © 2008-2015 Christy Biswell
Read more about the writer: Christy Biswell
---
Post Your Comment...
---