A Light In The Darkness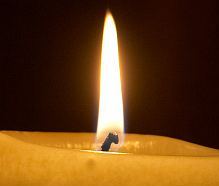 With the Fall season upon us and the weather beginning to bring a chill to the evening air, we are starting to see signs of the holidays approaching. As Christians, the word "Halloween" stirs up mixed feelings among our community of believers. But, whatever your Harvest time traditions include, it is difficult to escape the barrage of costumes, scary decorations, pumpkins, and candy that flood our daily "haunting" grounds. So, as a mother of two small children, it is important to me to incorporate as much Christ-like influences to a holiday that is otherwise lacking in holiness.
As a child growing up, one of my favorite things to do at this time of year was to carve Jack-O-Lanterns with my five older siblings . We would find the largest open space in the house, which was usually the basement or the kitchen floor, and spread out newspaper from wall to wall. I loved squishing my fingers in all the gooey strings and seeds inside the pumpkin. This family tradition is one that I continue to participate in with my own children. There is, however, one very significant difference. As we carve our pumpkins, we talk about how the Jack-O-Lantern can be used as a symbol of Christ's love for us. (I know this may be challenging some of you, but hang in there. I am sure you will be blessed by this story).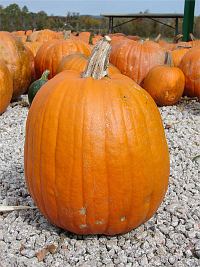 When I was a teenager, I heard a sermon about the Jack-O-Lantern which I am going to call "A Light In The Darkness". The preacher began with an uncarved pumpkin on the stage and asked, "What is the first step in creating a Jack-O-Lantern?" After a few logical responses from thecongregation, he stated, "First, it must be Chosen". Wow! In the same way that we go to the local patch and select our pumpkin, so Christ looks down among the many and chooses us individually to be his very own. He continued, "Secondly, It is bought with a price". (I am sure you can make the necessary parallels without me spelling them out for you). As, his sermon progressed, he illustrated the remaining points on the pumpkin he had on stage. While picking up a knife he said, "Next, you cut a hole in the top, reach deep inside, and remove all of the junk that has been growing within." This is perhaps one of the more painful things we as Christians experience at the hands of God, but how necessary it is for us to allow Him to clean out the mess we have on the inside. "Fourth", he stated, "we draw a face on the front and give it a new identity". Praise God, that he does not allow us to be the same as we once were. In Him, we are a New Creation! "And Finally", he said in closing, "we put a light inside of it." What an amazing illustration of how Christ's love comes to live within us and shine through us.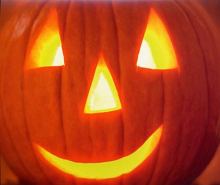 As we sat in the sanctuary looking up at the Jack-O-Lantern, we were all awestruck by the message we just heard. "This is not the end of the story," the pastor said. "For Jack-O-Lanterns are not meant to stay indoors in a house that is already lit". Just then he had someone turn off all of the lights in the sanctuary. "They are made to go out into the darkness and shine their light for all to see."
So this harvest season, if you decide to make Jack-O-Lanterns with your children, share this simple story with them. It is a wonderful way to incorporate God's love into this coming holiday so that we may continue to be "A Light In The Darkness".
Copyright © 2008-2015 Carrie Neely
Read more about the writer: Carrie Neely
---
Post Your Comment...
---