NEVER GIVE UP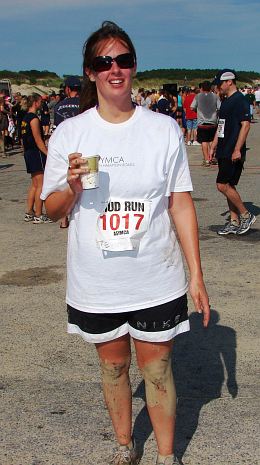 When an almost 40-year-old woman signs up to run an 8K race, you might wonder why.,After having two children,I decided that a race would be a great incentive to help me stay motivated about my fitness goals, so I signed up for the Mud Run. This is a challenging course with mud, sand, and rough terrain. I had participated in that race about six years ago, when I was properly trained for the event. In the past, I ran the race with a team, but this time I would run the race alone.

Training for this race became very difficult. I had to schedule my workouts around my children; That was challenging! With minimum conditioning and training, I knew I wasn't prepared for this event. Then I injured my knee, which further kept me from the training I needed. So, I reevaluated my expectations and decided to keep it simple: to participate and to complete the race.

The day before the event I was supposed to pick up my packet for the race I was injured, my training had been pathetic, and here I am supposed to run an 8K race. What was I thinking? At this point I really thought about "throwing in the towel," but, since I had already paid for the t-shirt, I decided to go pick up my race packet. Who wants to let a perfectly good t-shirt go to waste? The more I thought about it, the more I realized that I could not wear the shirt in good conscience if I did not participate in the event! So, I decided right then that I would participate. On the morning of the race I got up at 5:00 a.m. My nerves were getting the best of me and I needed to get myself together before the adventure began. I arrived at the location for the race at about 6:30 a.m. I'm always an early bird.. so I took the extra time to stretch and relax as I looked out at the ocean. I thought to myself," Can I really do this? Maybe I should leave and then come back next year when I would be better prepared for this event."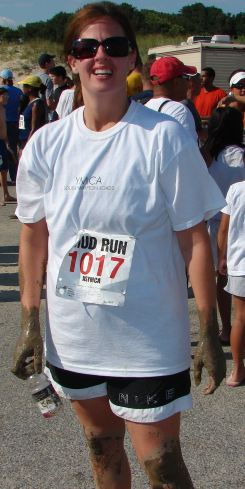 Deep down, though, I knew I had made a commitment to myself to do this race, so I was going to do it. I prayed, asking God to give me strength for the course ahead and to help me remember that my goal for this race: to participate and to complete it.
When the bullhorn sounded, I started with the runners in my group. The first mile of the race was on the beach. The sun was hot and the sand made it more difficult to run. By the end of the first mile, my shoes and socks were soaked and filled with sand. Then came the sand dunes and hip-high water. I could feel myself fighting exhaustion and fatigue, but I was determined to keep going.
The pain in my knee intensified as the course wound through the woods, onto the asphalt, and through the many obstacles of the course. One of the more challenging obstacles I remember was a cement wall that I had to get over. It was about six feet high. My first attempt was not successful, so I tried again and surprised myself at how well I came up and over the wall. I continued on the course and prayed to God to give me more strength and to forgive me for signing up for something so ridiculous.

The last quarter mile was certainly the toughest and by the looks of those around me I wasn't the only one who thought so. We were all hot, tired, thirsty, and exhausted. As I struggled through the last mud pit and over the last sand dune I could hear the crowd ahead cheering for the runners as they came through the finish line. So, I mustered all of my strength and began to run again. My husband, children and father cheered me on as I made my way across the finish line. In the end, I had some mud, a little blood (it was a scrape, but it freaked out my son) and what appeared to be a broken wrist. But, I felt so happy to be done with the race and so satisfied with myself for the simple fact that I never gave up. I set my goal: to participate and to complete the race. And, I'm proud to say God and I got the mission accomplished. And yes, I'd probably do it again next year.
A Prayer for Strength:

Dear God,


We know that many times, our lives represent an obstacle course. We have a finish line that you have called us to. We ask now, for your courage, strength, perseverance, fortitude and determination to achieve the goals that you have placed in our lives. We know that we can't do it without you. And we ask you now for your help. We receive it and give you thanks for it in Jesus' name.
Copyright © 2008-2015 Christy Biswell
Read more about the writer: Christy Biswell
---
Post Your Comment...
---