Saying Thank You
Saying "please" and "thank you" is one of the most pleasant and basic of all good manners. Yet children and adults a like often forget to say thank you. I received a very creative "thank you," from my niece this summer that reminded me how nice it is to be thanked.

My sister and her family are missionaries on the other side of the world. I had wanted to give my niece, Olivia something special just for her that she could receive in the mail. I was hoping she would like it, and I was both surprised and delighted when I saw her respon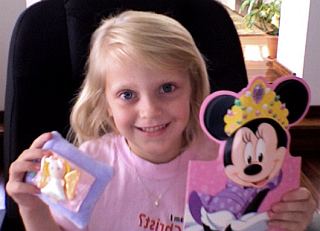 se.

When she received the package I had sent to her for her birthday, she responded that very day with a picture of her displaying the Minnie Mouse card we especially selected for her, wearing the pretty necklace and holding the other "First Lost Tooth Pouch" that we had bought for her just for fun.

She sent a sweet little note by email and attached the picture. I was so pleased at the thoughtful gesture. I realized just how very polite we can teach our children to be. When we teach them to say thank you, we are also teaching them a very important character quality called: Gratitude.

There are many ways you can say or show thankfulness, but the important thing is that you do it and do it right away! Manners expert, Emily Post says send a thank you note that very day, or at least the next. Are we a part of a culture that's too busy to say thank you? If so, we've lost the art of being polite. Teaching our children common courtesies is important and we can use these opportunities to teach them in very natural ways. I confess, many times I have been caught up in business that I haven't been as polite as I should have been, but there's always room to grow.
Happy Thanking!

Copyright © 2008-2015 Debbie Reynolds Harper
Read more about the writer: Debbie Reynolds Harper
---
Post Your Comment...
---